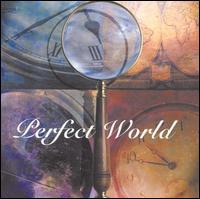 Image via Wikipedia
What if life were perfect?
What if you lived in a perfect world of perfect people and perfect possessions, with everyone and everything doing the perfect thing at the perfect time?
What if you had everything you wanted, and only what you wanted, exactly as you wanted, precisely when you wanted it?
What if, after a perfect length of them, you decided, "Perfection is a perfect bore."
What if at that point in your perfect world, you noticed for the first time a button marked, "Surprise."
What if you walked over, considered all that might be contained in the concept of "surprise", decided, "Anything's better than perfect boredom, " took a deep breath, pushed the button…
And…
…and found yourself where you are right now – feeling what you are feeling now, thinking what you're thinking now, with everything in your life precisely the way it is now – right as you're reading this.
Many of us are surprised to be where we are right now – or we get thrown because we have surprises in our life.
Surprises: What does that word conjure up for you?
Does it bring thoughts of new offers and opportunities –
Gifts and events filled with fun or something beautiful in nature that simply takes our breath away.
You know what surprised me in writing this? For a moment I began to think of surprise as not so good – surprised by an accident, a blown tire and waking up to no electricity – all surprises and life experiences.
Which brought up probably the most important lesson – for me at least – we may not want our life perfectly boring – however we seek things safe – pleasant or good surprises we are quick to embrace –
It's the awful, painful, and hard to understand surprises that make us think that perfect sounds pretty good.
The perfect scenario at the beginning of this came from the "The Portable LIFE 101 book", written by John Roger and Peter McWilliams – it's been around for awhile and it's worth owning.
It helped me to think better – and ask a deeper question – am I seeking perfect? Are you?
Might that be a reason we are sometimes less than happy with where we are now?
What if today – the whole focus is anticipation and expectation – that there will be amazingly great surprises coming our way?
Like a surprising whiff of something that startles our nose – helping us remember what a gift our sense of smell is – and how powerful it can be in making life richer.
Or the phone ringing and before we look being curious as to who it is and what they will say – and open that you will be surprised by a question, or complement or inquiry – someone wants or needs you and they're going to tell you this over the phone – be ready for pleasant surprises coming to you through your ears.
How about when you get a hug today – from a lover, friend or a child – stop and feel it – the touch, the warmth, the holding tight and let yourself be surprised by the connection it brings – really be in that moment with another – and surprise yourself and others by being the one who initiates the hugs – it's in your power.
I'm ready to be surprised – I am pushing the button – and more importantly for me at least – from now on I'm going to think about perfect – as perfectly boring and bland and uninteresting which will give me new eyes about everything and everyone – yea!
Remember – you create your day by the way you think. Make it surprisingly magnificent!
Blessings, Shawna