Note: This month I am sharing articles written by people who impacted me during the year 2011 and from whom I've learned a lot. Hope you enjoy the selection. Today's article is by Elaine Bailey, my current business and life coach.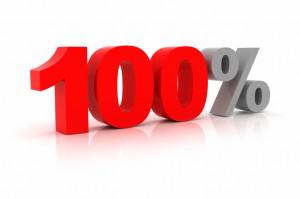 "There is a difference between interest and commitment. When you're interested in doing something, you do it only when it is convenient. When you're committed to something you accept no excuses, only results."
Ken Blanchard – Author
So you've set yourself a clear goal or intention. For example, you have decided to improve your fitness level. So you set an intention to go to the gym twice a week.
Things start off well and you get to the gym 2 times a week for the first two weeks. You're making progress and then…
Life gets in the way!
You have to work longer hours or you're too busy and too tired to exercise. Your actions become inconsistent and progress towards your goal stops.You get frustrated and wonder why achieving your goal is so hard to do.
Here's the thing…
Once you have set a goal or intention then you have to make a 100% commitment to that outcome if you really want it to happen.Not 50% or 60% or 90%
100% commitment or bust!
Here's what 100% commitment looks like:
If you are committed to your goal then there are no excuses, only results
You have discipline – It's just part of your daily practice
It's a done deal
You've made the decision – you're committed to making it happen
You don't have to think about it anymore. The decision has been made – you're doing it
There is no debate in your head
Life is easier and you have focus
This is not negotiable
You observe the boundaries you've made to make this happen
You turn up every day despite obstacles and not feeling like it no matter what the circumstances
Here's what just being interested looks like:
You do it inconsistently – only when you remember or 'feel like it'
You can find excuses NOT to do it
You wake up each morning fighting the voices in your head over whether to 'do it' today or 'not' or 'I'll start it tomorrow'
You make excuses during the day to justify your lack of commitment to this goal. "I haven't got the time." "It's not my fault." "I should have…" "I'm too tired." "I deserve a day off."

You make hesitant attempts to start but easily give up
You're still fighting with the decision even though you've already made it
You (and the committee in your head) debates the topic over and over
You feel frustrated because you know what you should do, you just don't do it!
The truth is that if you're only interested in your goal then realistically you're not going to achieve it.
Successful people really commit to their intentions. How much do you really WANT yours?
It's got to be 100% commitment!
About the author:
Elaine Bailey is devoted to coaching successful women and men into their best lives. She mentors busy people to move away from the chaos and overwhelm of settling and surviving by offering them a whole new approach to productivity, business and lifestyle.
Her weekly eZine WorkBrilliant™ goes out every Thursday and is full of practical tips and techniques to move from misery to mastery EVERY single day! You can sign up for a F.R.E.E. subscription to WorkBrilliant™ at  http://www.elainebaileyinternational.com.
Advertisement