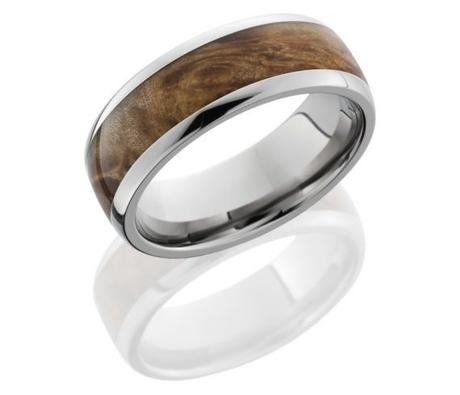 Are Wood Rings Reliable?
Are you and your partner considering a wood ring or wedding band for the big commitment? Sometimes people tend to overlook these sleek and chic beauts but they often hold so much emphasis and tradition that some just can't resist. Wood rings and wedding bands made from various metal have been around for centuries, however, wood rings are a fairly recent game-changer.
Different types of wood rings
There are a few different types of wood used for wood rings. The most common types used are mahogany, teak, and ash. This is because wood that is on the softer side tends to scratch and dent more easily. And it can also break the metal setting or counterparts.
Maintenance for wood rings
One of the most important things to consider when looking for a wood ring is how much maintenance you're willing to put into it. Wood rings need to be treated with extra care so that they can withstand the same wear-and-tear as a typical metal ring.
And so if you're willing to properly maintain it, a wooden ring can easily last as long as a metal on. Proper maintenance includes protective coatings, varnish, and regular trips to a cleaner. Though it will need more attention and work than a typical metal ring, wooden rings are totally worth it.
Other considerations for wood rings
If you're unsure if a wood ring is right for you or not, there are a couple of questions you should ask yourself. Questions like, What type of environment do you work in? Is water or heat involved? How about electricity? While wood rings would be ideal for someone who works in the field of electricity, they may not be ideal for someone who has their hands in water all day.
These are just a few things you need to think about when considering a wood ring. You should also take a look at your hobbies and see what you do on a daily basis that could have an effect on your ring. And you also want to determine whether or not you're ready to take on the maintenance portion.
Raymond Lee Jewelers
Here at Raymond Lee Jewelers our acquisitions team specializes in the appraisal and purchase of jewelry such as diamonds, rare luxury estate jewelry, antique jewelry, luxury watches, and modern designer estate jewelry. It's our number one goal to be a partner that our customers can trust.
Whether you're seeking a return on investment you made for some large GIA diamonds, a valuation on a "priceless" vintage Van Cleef & Arpels suite, a quote for an antique Russian parure, or simply a worthy asking price for a new model but pre-loved Rolex, our selling experts are here to help.
Areas we serve
Our state-of-the-art, modern showroom is located in southern Florida in the city of Boca Raton. We proudly serve Boca Raton and the surrounding following areas: Palm Beach, Fort Lauderdale, Miami, Broward, and Miami-Dade. Stop by and talk to one of our experts about finding a wood ring today.