There has been talk about the death of stainless steel appliances for a few years but it is still the runaway favorite. That said, General Electric's matte gray Slate finish appliances sold twice as well as expected last year, and they say they will be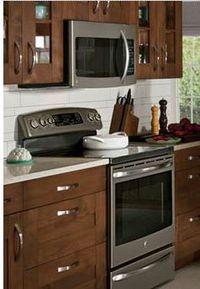 introducing more offerings in 2014.
Are we on the cusp of a new kitchen aesthetic? After years of flaunting commercial style kitchens, there may be a trend toward a softer look with more rounded edges and handles and less metallic sheen. 
I haven't seen evidence of a trend towards the newer White Ice collection, but I could see slate gaining traction. It is softer with a matte finish, and blends in with existing stainless, white or black appliances so you don't necessarily have to buy a whole kitchen of new appliances at the same time.
What may be one of its biggest pluses is the fact that its finish resists fingerprints... so you don't have to buy a collection of cleaners to keep your appliances free of prints.
The average age of appliances (as well as cars and furniture) in US households is the highest it has been in almost half a century. If it is time to replace yours, you might want to at least consider some of the newer options. Stainless steel has been dominant for so long, it may be time we start seeing a shift. I know I have clients who are sick of seeing stainless steel appliances in nearly every home they see!
Sharlene Hensrud, RE/MAX Results - Email - Minneapolis-St. Paul Realtor
RELATED POSTS
Top kitchen remodeling trends 2013
Kitchen design for aging in place also great for kids
Up to 69% of buyers are willing to pay more for these features