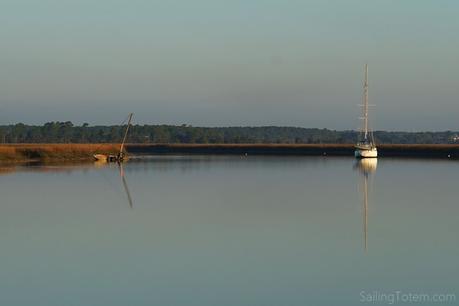 Apologies to those I'm about to offend, but the ICW is boring as ___. Flashes of pretty, the odd dolphin, aren't enough of a tradeoff for the monotony of motoring day after day along narrow channel. If the weather was fine, it might cross into the realm of pleasurable for a short stretch, but in conditions we've had these miles are just something to get over with. To answer the question in the title: no, not in Florida yet! But Charleston for Christmas, along Totem's slow path south down the ICW, is going to be great.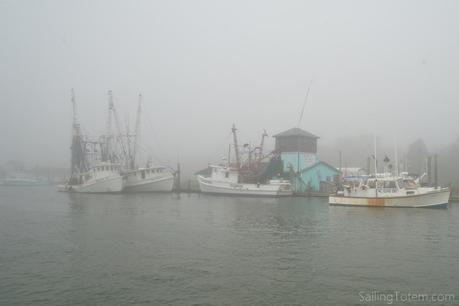 So foggy we couldn't see from one mark to the next
Waking to temperatures in the 30s is getting old. But it's Jamie has taken the overwhelming brunt of the chill, standing for hours and hours on end at the helm. Hand-steering is the  norm: partly because the autopilot isn't a good match for curvier stretches of the ICW. It's also more tuned for offshore use, and tends to fish around too much for the narrow channels. But these factors are trumped by our failing spray dodger. You can't see through it any more, so punching buttons for +1 / -1 on the autopilot while gazing out from a more protected spot isn't an option. Meanwhile, Niall and I had a good laugh when we learned the itchy/sore spots we developed on our feet weren't actually some fungus or infection, but a product of cold exposure (check) and poor circulation (lots of sitting around the boat while motoring).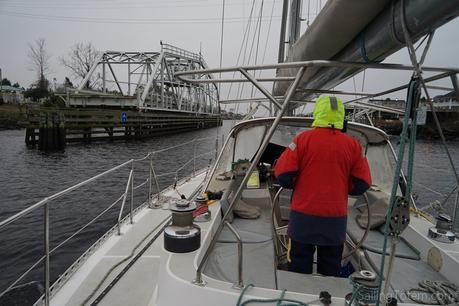 The bridge tenders are often a treat to talk to
Shoaling (we draw 6′) and bridges (with everthing stripped, we're 64'4″) take patience and awarenss. South of Beaufort SC, the ICW water level is tidal (above, it's influenced by wind): when Totem's rig is too tall, we wait. We had to wait for THREE HOURS one day, and still needed to rig up the full kit of ballast to get under, but at least we fit.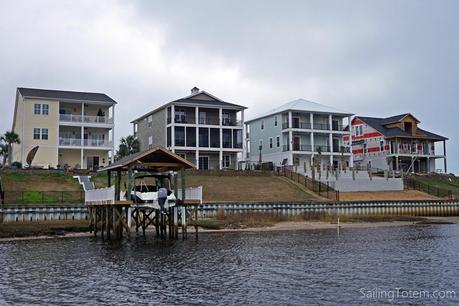 Pretty scenery, and pretty weird spec McMansions along the ICW
The weather has changed our eating habits, too. Salads normally feature, and being back in the land of mid-latitude veggies means bingeing on lettuce and other greens that were harder to find in the tropics. But now the cucumbers and tomatoes purchased in Beaufort are languishing because, well, they're cold and cold is not very appealing. Instead it's soups, stews, casseroles… basically anything we eat to keep warm! There's something in the oven every day, because an uninsulated boat oven is a pretty good proxy for a heater on board.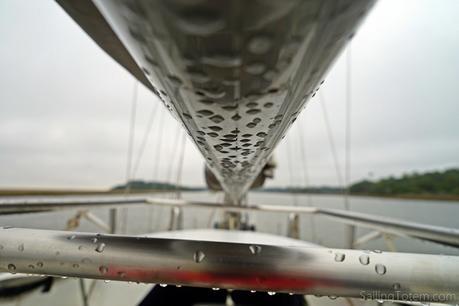 Did I mention the rain? Horizon level…Totem still in "induced heel" mode.
Is this whiny? That isn't my style, but I'm also not going to paint a rosy picture of what's been an uncomfortable stretch. Ultimately though I'm an optimist and believe it's a choice to be happy, to find it wherever you are. In that vein, although these last couple of weeks haven't made me a fan of the ICW, there are plenty of bright spots.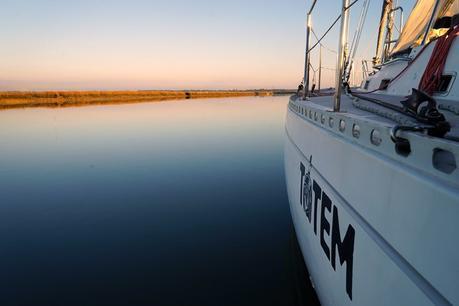 The marshes look on fire in early morning light
Like the day we lingered in Carolina Beach to see old friends Frank & Karen from Tahina Expeditions. We first met in Tahiti, later hung out with in Australia, and last said goodbye to in Thailand nearly three years ago.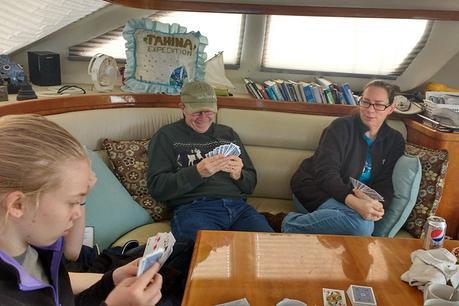 Long history of card sharking with the Tahina crew
Beaufort, NC's Homer Smith Marina offered unexpected hospitality. We picked it because it was the cheapest dockage in Beaufort where we could plug in to run our space heater overnight. Homer Smith came with a helping of friendly assistance, free laundry, a loaner vehicle, and offers to help with propane or whatever we needed. Shrimpers offload their catch here, and sell to the public, but the manager wouldn't let us pay for the 2 lbs of fresh Carolina shrimp I wanted (thank you Matt, they were so sweet!) and gave us a free night when weather delayed our departure. The guys sorting shrimp in the shed pretty much made my day, joking around with each other and warmly answering my questions.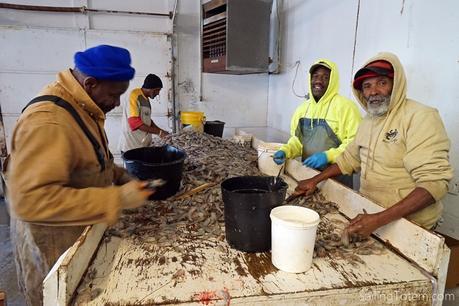 The SSCA's cruising station hosts in Beaufort, Normandie and Michael, treated us to lunch at a Mexican restaurant, where over horchata and margaritas (oh sweet memories!) we traded stories and discovered we had been in the SAME ANCHORAGES at pretty much the SAME TIMES, back in 2009 and 2010 in Mexico! It is a small, small cruising world — for real. (Normandie writes women's fiction, and I love–LOVE–that she nails descriptions of cruising and sailing. I mean, of course she does! But that's unusual to find in books that aren't about sailing per se.)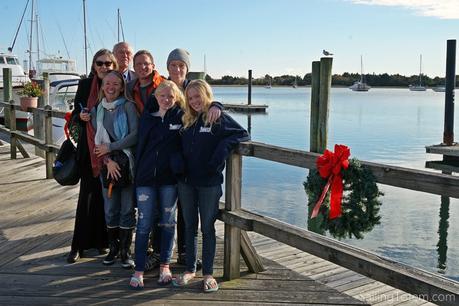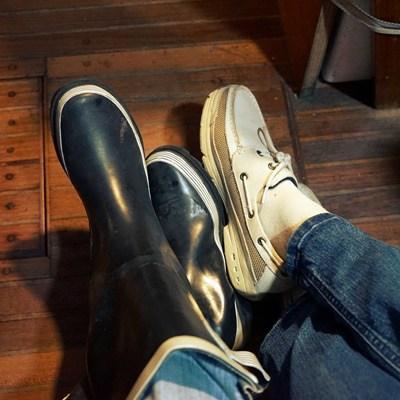 We've had a good time with the Rockhopper crew, who leapfrogged us after Oriental, and sent back reports on bridge height and shoaling that were a great help for anticipating where we'd have issues to anticipate as we followed in their wake. Suzanne isn't big on personal pictures so we took one of our feet instead!
There's something about the sight of spanish moss hanging from trees cropping up as if a sign we'd crossed some invisible line in South Carolina. Spanish moss and frosty weather seem incongruous: this bodes well for warmer days ahead. Until then, Jamie's cockpit lounge wear includes wears a one-piece fleece suit under a full set of foul weather gear, plus a hat and ski gloves that Frank passed along. Our hamster, Mochi, builds herself an igloo from cotton wadding and an old sock. We hibernate below deck as much as possible. We cuddle up together to watch a movie and share body heat in the evenings. We have actually used a hot water bottle at night.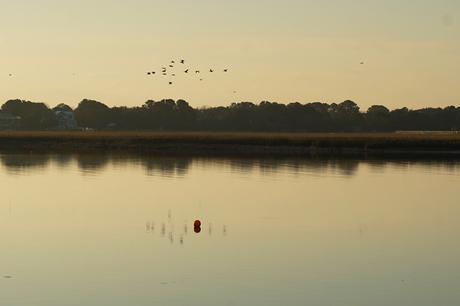 Smart birds flying SOUTH.
A few hours ago, Totem tied up at the Charleston Harbor Resort & Marina. Welcomed by the dock staff and one of the liveaboards on arrival, with an expansive facility decorated to the hilt for the season, this is going to be a sweet spot for a holiday week….and it's forecast to be in the 60s and 70s again!