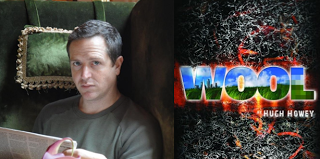 Steven Pressfield wrote a fascinating

article 

going into the financial details of two recent book deals; EL James's, which has received major publicity, and Hugh Howey's, which passed almost unremarked by journalists. But it's Hugh's publishing contract which may change the face of publishing. 
Here it is in Hugh's own words:
"After three rounds of publishers winking, flirting, and making passes at WOOL this year -- after a dozen or so offers that I would've fallen over myself to accept earlier in my career -- after walking away from two 7-figure deals last month that would've meant giving up all control of my publishing future and all of my rights -- Simon and Schuster blew my agent and myself out of the water with a deal that is everything we've been looking for from the very beginning (and never expected to get).
"Less money. More respect. Ultimate freedom.
"This is the contract I've been hoping for, and not just for myself. To be honest, I didn't think it would happen to me. I thought this was a contract for the future -- for other authors. But my agent and I went into these several rounds of discussions telling each other that it was crucial to have these conversations with publishers so that they would get used to hearing what was important to authors. And what's important to authors isn't *always* large advances. We want long-term stability; we want to retain our rights; we want the freedom to publish our way; we think digital rights should either remain in our hands or pay a whole lot better. 
"By keeping my digital rights, I'll be able to retain the sensible (i.e. cheap) price of my ebooks so that they will (hopefully) continue to sell. I can lower the price and do promotions anytime I want. I can see my sales in real-time like I always have so I know what works and what doesn't. I can keep the first book at perma-free. 
"Simon and Schuster, meanwhile, will do what they do best: they are releasing WOOL in March. They are also doing something awesome here at my behest (read: begging) by releasing the hardback and paperback simultaneously! This means a major push with an affordable paperback in bookstores, with a hardback available for libraries and the handful of people who might prefer one (i.e. my mother). 
"We were told by other major publishers that they don't ever see doing print-only deals. When I praised Kristin [Hugh's agent] for pulling this off, she told me it was all about having a client willing to say 'no'. For three rounds, we turned down unfair contracts hidden behind large advances. What we ended up with in the end, of course, is far more valuable to me."
Hugh Howey is an outlier; his staggering success with Wool surprised even him. It started life as a short story he didn't bother to promote, and word of mouth made it a best-seller. Ridley Scott is to make the film version. Right now, only a stellar writer would be so much in demand that he can negotiate his own terms. But I've often thought, if an indie author can sell significant numbers of ebooks, there remains a virtually untapped market (still the major part of the market) for his print books. Why aren't publishers making print deals with authors with a proven sales record? These books are as safe a bet as you'll find in publishing.
If I, all on my own, doing my own proofreading, editing, formatting, cover and marketing, can sell over 40,000 copies of

Remix

, how many print copies could a publisher sell? And there are hundreds of self-publishers who have done better than me with ebooks, while barely scraping the surface of print sales. This is a huge opportunity, currently wasted.