Master bathrooms have begun to elicit an exquisite style of taste. It seems that the bathroom has experienced a period of refinement that has lifted this hidden space to the forefront home design. No longer is the bathroom a small outhouse reserved tucked away in the woods. Bathrooms are now showcased in the home as space that is meant to be demonstrated instead of concealed from sight.
In past times, the living room and front parlor were the highlight of a home. This was the place that guests were entertained and invited into a home. Following the 1960′s, this focus began to shift into a livable kitchen area that showcased all of the new technologies available with the latest appliances. Well it's a new millennium and it's time for the bathroom to shine.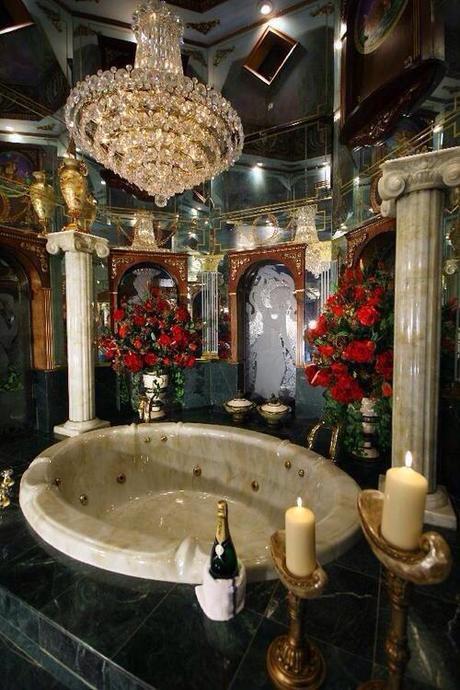 Images via Pinterest.
Bathrooms are Growing Up
As you may have noticed, the size of standard bathrooms have begun to grow and even double in many cases. Never before would it be possible to squeeze a double shower into a narrow bathroom from the early 20th century. The New Master Suite has become highly publicized as homeowners seek the bathroom escape of their dreams. These rooms are now capable of taking you on a short hiatus.
Much of the increase in size could be attributed to the changing dynamics within the typical American family. In current times, dual-income households have necessitated His and Hers bathrooms that are built to accommodate husband and wife. What constitutes a "small bathroom" often depends on who you ask nowadays.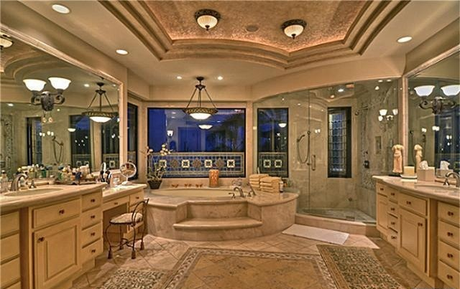 Exotic Materials
Grand Master Suites are now filled with exotic materials that were previously reserved for high end furniture. Even the bathroom vanity has become much more eccentric and even rambunctious in some cases. Furniture style bath vanities actually mimic crafted furniture in a way that carries the same design characteristics into the commode.
Transitional vanities have sought to bridge the gap between the ornate decorations of Vintage vanities and the sleek lines associated with modern bathrooms.  Floating vanities have also been a contemporary style that elevates your design in more than one way.
Porcelain sinks used to be the standard in bathrooms. In the late 2000′s we saw a rise in the use of vessel sinks. Moving forward, stone, copper, and even wood sinks have begun to fill homes with striking materials that are anything but the normal. Countertops have become thicker with large slabs made of natural materials such as Tigers Eye Gold, Carrera, and Dark Emperador.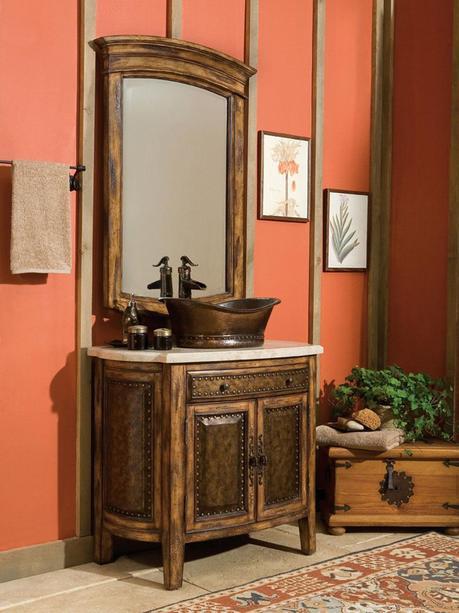 The 36″ Rustico Single Vessel Sink Bath Vanity is rich in detail. Currently $3,010.00.
Gadgets and Technology
The bathroom has become the showcase for many new gadgets and gizmos that automate everything from showerhead flow to extractor fan speed. The classic clawfoot tub has been outclassed by high tech bathtubs that take you to your place of Zen. Costing upwards of $47K, advanced technology bathtubs have set the precedent on luxury living standards. If you want a first class home, your bathroom must measure.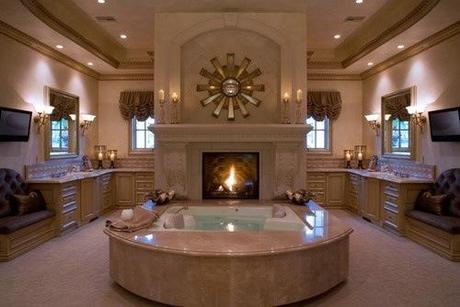 Master Bath Amenities
The bathroom is no longer just a place that we go to relieve ourselves. No, it's much more than that now. The modern bathroom is a mini-vacation, an escape from the stress, and a taste of resort style living from within the confines of our home. Custom homes are seen with amenities that we once thought impossible but the day has come.
Heated flooring, TV's in mirrors, fireplaces, and personal saunas are now available in the bathroom. These incredible bathrooms will take your breath away. The bathroom has become our place of solitude as we relax and unwind at the end of the day. It is not only there to facilitate washing up, it is there to comfort you as your personal therapist.
Acupressure body jets, automated temperature control, and pulsating shower heads massage knots out of strained muscles and prepare you for another day. Although these features may seem overwhelming, modern bathroom design has just begun to peak at what lies ahead.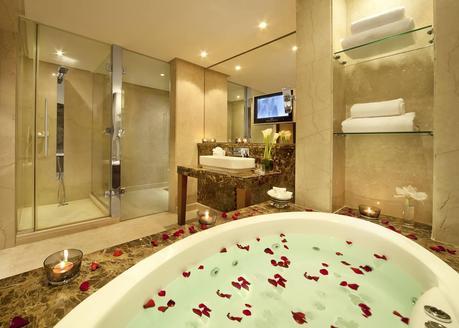 Tradewinds Imports is an online retailer of exclusive bathroom vanities. You won't be able to find these in big box stores! Visit our San Diego Showroom at the address listed below!
4122 Sorrento Valley Blvd #107B
San Diego, CA 92121
1-888-900-0477
http://www.tradewindsimports.com/
About this Post
Cheryl Khan is a contributing author to the Tradewinds Imports Blog. Although bigger appears to be better, she encourages homeowners to go with what works for them. If a cozy bathroom suits you best then go for it!