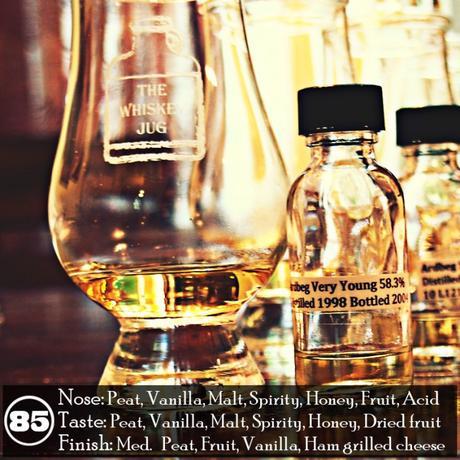 Ardbeg Very Young is made from distillate created after Glenmorangie PLC bought the Ardbeg distillery. The whisky in this release was created in 1998 and placed in "first fill casks" (ex-bourbon) where it sat for the next 6 years until it was bottled in 2004 making it roughly 6 years. Though it is technically a NAS and depending when it was distilled in '98 and bottled in '04 it could actually be 5 years, but everything else I've found online says 6 so we'll go with that.
Very Young is the first entry in the "Path To Peaty Maturity" line that was released after Ardbeg was bought. It was their way of creating buzz about a brand that had been through some rough times and show off what was happening as they prepared to "re-launch" their stalwart the 10 year. All of the releases along the way were released at full cask strength and having recently done the whole line it's a fun way to see how it all panned out and if you stay tuned to this little ole' whisky blog you'll get to see that too!
Ardbeg Very Young Review
Distiller: Ardbeg
Age: 6 years
ABV: 58.3%
Price: $300 – $500
Distilled: 1998
Bottled: 2004
EYE
Pear Juice
NOSE
The peat is fresh and crisp here; reminds me of the peat logs the folks from Isaly always burn at tasting events it's so present. Vanilla and malty spirity sweetness follow up next and drag in some notes of honey, fruit and citric acid. Adding water causes the sprit, vanilla and fruit notes to pop up a bit more.
PALATE
The peat is just as forceful on the palate as on the nose, but comes across a bit darker and dirtier. It's also followed by the same vanilla and malty spirity character. Honey, dried fruit and a bit of honey dew all come through more towards the end. Water doesn't change it much either. It's quite tasty, but not very complex.
FINISH
Med finish with a touch of peat, fruit and vanilla that fades to something resembling a ham grilled cheese sandwich.
BALANCE, BODY & FEEL
Peat and spirit both weigh a bit heavy, but they are also on opposite sides with sweet and savory so they achieve a decent balance for what's there. Medium body with a soft and smooth texture.
OVERALL
Ardbeg Very Young is exactly what the name suggests and the nose comes across peaty and the palate follows suite. It's good, it's interesting, but based on the auction and 3rd party prices I've been seeing these go for recently I'd recommend taking a pass unless you're a really big Ardbeg fan and are just dying to taste a high proof young Ardbeg.
SCORE: 85/100