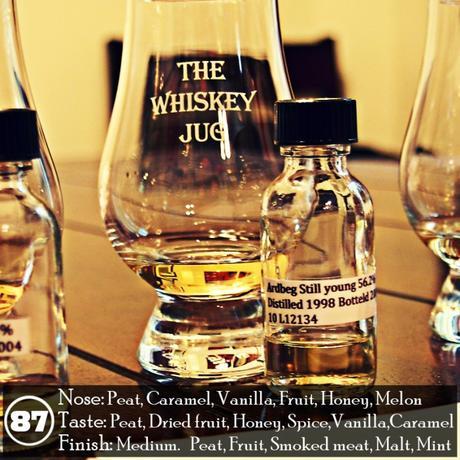 Ardbeg Still Young is the second whisky in the "Road To Peaty Maturity" series and represents an additional 2 years of maturity on the initial rounds of distillate created after Glenmorangie PLC bought Ardbeg (both were bought by Louis Vuitton Moet Hennessy in 2004). Like the Very Young, this is delivered at full cask strength and non-chill filtered.
According to Ardbeg Project when this one initially came out it hung around on the shelves for a while and was available for around $30 BPS which today is about $45. That's a far cry from where we're seeing them these days where they're fetching 8-10X+ that at auction or high-end whisky sites. Now whether an 8 yr CS Ardbeg made from some of the first post acquisition distillate is worth it or not is completely up to you as collector. I'm just here to talk about how it smells and tastes.
Ardbeg Still Young Review
Distiller: Ardbeg
Age: 8 years
ABV: 56.2%
Price: $320 – $500
Distilled: 1998
Bottled: 2006
EYE
Pear juice
NOSE
Peat, caramel, vanilla, fruit and honey come through nicely with a bit of melon, lightly malted sweetness and overcooked sugar cookies. Water makes it come across fresher and crisper with a bit more complexity creeping in.
PALATE
Peat and dried fruit dominate with solid notes of honey, spice, vanilla and caramel coming in behind and some light mint on the tail. Water kicks up more of the peat and vanilla.
FINISH
Medium and peaty with notes of fruit, smoked meat, malt and mint.
BALANCE, BODY & FEEL
Peat is a bit heavy but not enough to completely throw the balance off. Medium body with a soft and smooth texture.
OVERALL
Ardbeg Still Young isn't too bad. It's really interesting to see what 2 years does to the spirit; seeing how it changes and morphs during one revolution around the sun. Compared to the Very Young the nose is richer and deeper which is true for the palate as well with deeper notes appearing. It's a good whiskey that's getting better with each of these releases.
SCORE: 87/100