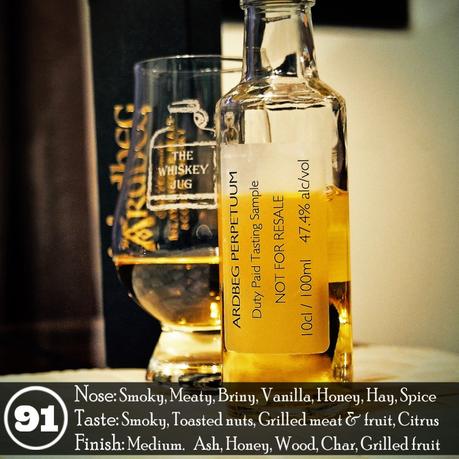 To celebrate their 200th anniversary Ardbeg is releasing this, Ardbeg Perpetuum, as the 2015 limited edition release which will officially go on sale on Ardbeg Day (May 30th). Founded in 1815 the distillery has seen times of prosperity and dire straights that led to closure, but luckily it's been more open than closed over the years. During it's 200 years Ardbeg has only been closed for a total of 13 years (plus a 7 year stint of only being open for 2 months a year) and is currently enjoying its most successful, and well deserved, period in their history. Which is exactly what this whisky is about.
According to Ardbeg, the Perpetuum is "Ardbeg's past, present and future – bottled. Dr Bill Lumsden, our Whisky Creator, has taken inspiration from the differing styles of whisky his predecessors have created over the last 200 years." And is it a brilliant whisky, though after tasting so much old Ardbeg for Ardbeg April I will say that I wish there was a touch more of the past than the present in this release based on what it's supposed to be. Regardless, it's still a good release and a great addition to the annual Ardbeg limited edition releases.
Ardbeg Perpetuum Info
Region: Islay, Scotland
Distiller: Ardbeg
Mashbill: 100% Malted barley
Age: NAS
ABV: 49.7%
Cask Strength | Non-Chill Filtered | Natural Color
Price: $100*
Ardbeg Perpetuum Review
EYE
Fresh honeycomb
NOSE
A smoky, meaty, iodiny, briny, vanilla and honey beaut! It's crisp and warm with additional light notes of hay, spice and fruit. A bit of water brings out more of the fruity notes and also kicks up a bit of ash I wasn't noticing before. Very good indeed.
PALATE
There is an overall grilled / toasty quality to the palate. Big smoky notes of toasted nuts, grilled meat, brûlée, grilled fruit and citrus peels. Some nice notes of iodine, brine, honey, ash and charcoal show up more towards the end and build adding deep dimension to the dram.
FINISH
Medium length, ashy and sweet. Mild notes of honey, wood, char and grilled fruit pop up along the way.
BALANCE, BODY & FEEL
Nicely balanced, smooth medium body and a warm luxuriant texture.
OVERALL
Ardbeg Perpetuum is complex, tasty and like it more than last year's limited release the 2014 Supernova. The one thing I'm a bit let down about though is that this doesn't have any of the darker notes found in older Ardbeg. Based on it's tagline "Ardbeg's past, present and future", I was hoping it was going to have some of that darker earthier quality in it. Regardless it's a great whisky and I fully plan on attempting to snag a bottle when it shows up in Los Angeles.
SCORE: 91/100
*Disclosure: This sample of Ardbeg Perpetuum was graciously sent to me by the company for the purposes of this review. The views, opinions, and tasting notes are 100% my own.