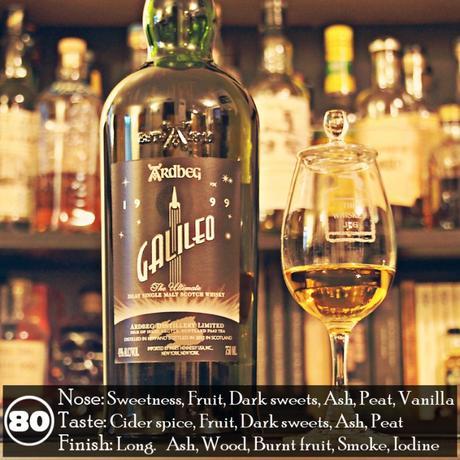 Ardbeg Galileo was the 2012 special release which was to commemorate Ardbeg's space aging experiment where they sent some Ardbeg into space to see what effect gravity (or the lack there of) has on the maturation process. When they launched the whisky they also launched a really neat interactive portion of their site for Galileo and if you have a minute you should check it out.
Unlike most of Ardbge's special yearly releases Galileo carries not just an age statement, but a vintage statement as well. Printed across the front of the bottle is 1999 which means that all of the whisky in this bottle was distilled in 1999. Doing simple math it looks like it would be 13 years, but remember age statements are based on the youngest whisky in the bottle. Looking at the bottle code we know that it was bottled on June 7th 2012 so anything distilled before that day in 1999 would be 13 years, but anything distilled after would only be 12. Hence the 12 yr age statement.
Ardbeg Galileo Info
Distiller: Ardbeg
Age: 12 years
ABV: 49%
Mashbill: 100% Malted Barley
Region: Islay, Scotland
Cask Type: Ex-Bourbon & ex-Marsala
Vintage: 1999
Bottle Code: L12 158 16:11 6ML
Non-Chill Filtered
Natural Color
Cask Strength
Price: $175+ (auction / specialty shops)
Ardbeg Galileo Review
EYE
Dark Amber
NOSE
I'm smelling an Ardbeg right? Sweetness rips out of the glass, bullying it's way down my nasal passages. A mob of muddled fruit and dark sweets like caramel, toffee, butterscotch, etc. A dusty ashy aroma wafts through in their wake along with some peat, vanilla, citrus, saline, iodine and a light bit of spice. The more I sniff the more the ashyness takes over.
PALATE
That light spice from the nose has blown up on the palate and a cider spice bull charges thorough followed by notes of fruit, dark sweets and a weird ashyness that builds with each sip. Peat, imitation vanilla, burnt citrus peels and saltines come through but don't really help balance out the ashy sweetness much. Like the nose, the more I drink the more that ashyness builds.
FINISH
Long and ashy with notes of wood, burnt fruit, smoke and iodine that fades to what I imagine sucking on a charcoal briquette would taste like.
BALANCE, BODY & FEEL
Off balanced with the sweetness hanging heavy until the ashy aspect swoops in and overtakes it. Med body with a rough, surprisingly hot, feel.
OVERALL
Ardbeg Galileo is among my least favorite Ardbegs. It's just not balanced and ends up being a sweet fruit and dessert bomb with a light dusting of peat and other flavors. It's just not what I'm looking for in a whisky. The only thing that kept this from the 70s (and just barely) was the appearance of the darker notes, but those build and build and end up overcorrecting; turning to ash. This could be one of those whiskies though that needs air to open up so I've marked this as one to come back to in a couple months.
SCORE: 80/100