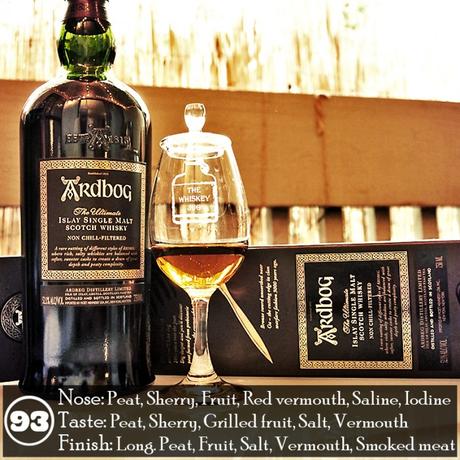 Ardbeg Ardbog was the 2013 Ardbeg Day release which made its debut at that year's Fèis Ìle whisky festival. Aged in a combination of ex-bourbon and ex-manzanilla sherry casks this is a peat n sweet lovers cask strength dream. Don't get me wrong I looooove me some Uigeadail, but Oogie is aged in ex-Oloroso sherry casks which gives it a different kind of sweetness and overall character.
The sherry sweetness given to the Ardbog by the Manzanilla sherry casks is more buttery almost frosting like and comes in thicker than it does with Oogie. Though that's also a bit to its detriment. Ardbog isn't quite as complex as Oogie and so doesn't hit quite as high of a score, but when you're dealing with A grade whiskies does it really even matter at that point? No, you're just going to be happy that you're drinking exceptional whisky. They're both peat 'n sweet heaven and well worth their MSRP. However, Ardbog being a special edition from 2 years ago that pricing is long gone and its pricing is now in the hands of auctioneers, specialty shops and collectors.
Ardbeg Ardbog Review
Distiller: Ardbeg
Age: 10 years
ABV: 52.1%
Bottling: L13 044 07:36 6ML
Price: $170+ (mostly auction)
Cask Strength
Non-Chill Filtered
Natural Color
EYE
Butterscotch
NOSE
Peat and sweet heaven. Big rolling waves of peat followed by a thick sherry sweetness and notes of fruit, red vermouth, saline, iodine, smoked meat, antiseptic, charred pastry and a light toasted nuts note. Water helps the nose blossom and it becomes fresher and crisper.
PALATE
Again this is a peat and sweet wonderland with notes of sherry, grilled fruit, salt, vermouth, smoked meat and spice adding depth. Lighter notes of antiseptic, char, coca, and dark sweets come through nicely; coming through a bit stronger towards the end. Water brings out some light notes of butterscotch and dark honey.
FINISH
Long and peat driven with notes of fruit, salt, vermouth and smoked meat that fades to a sweet ashy character.
BALANCE, BODY & FEEL
Nicely balanced, rich round body and a oily heavy feel.
OVERALL
I have zero complaints about the Ardbeg Ardbog and why would there be? It has a rich complex nose that's sweet, savory and smoky; a dense mouthwatering flavor of the same and a finish that I never want to end. This is some great stuff and if you come across a bottle for a decent price I'd snatch it up and take it home because it's a great whisky.
SCORE: 93/100