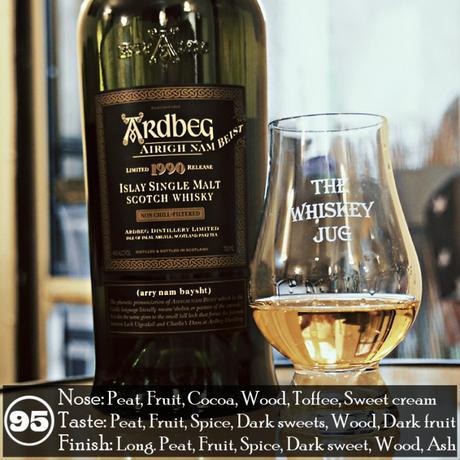 Ardbeg Airigh Nam Beist is a 16-17 year old Ardbeg with a 1990 vintage statement on it which means that 100% of the whisky in the bottle was distilled in 1990. The distillery was closed from 1981 – 1989 and then from 1989 – 1996 it was only open for distillation 2 months a year. So not only was all of the distillate in this bottle distilled in 1990, but it was distilled during the 2 month period Ardbeg was open at the time.
If we knew exactly what 2 months it was open for in 1990 we could nail down the exact age of this whisky. This bottle of Nam Beist being a L7 058 means it was bottled on February 27th 2007 so if the 2 months it was open were January and February it would be a 17 unless it contained whisky distilled on the 28th of Feb. If the distilling "season" happened later in the year then this would solidly be a 16 year bottle. Not that it really matters, just interesting stuff to know when you're a whisky geek.
Ardbeg Airigh Nam Beist Review
Distiller: Ardbeg
Age: 16-17 years
ABV: 46%
Bottling: L7 058 09:04 4ML
Price: $220+ (auction and specialty sites)
Non-Chill Filtered
Natural Color
EYE
Amber
NOSE
Peat, rich buttery fruit, coca and a woody darkness fill my olfactory, dragging along notes of toffee, sweet cream and complex spice. It has a dark fruitiness to it that works well to highlight some of the lighter notes of citrus and butterscotch that move about adding to the overall pleasantness of this whisky.
PALATE
Rich peat, complex fruit, complex spice and a cavalcade of dark sweets mix with a dark woody earthiness and creates a nice complex flavor. A bit of winey dark fruit sweetness, citrus peel, char and a nutty essence tie everything together and bring a nice multi-faceted balance to the flavor.
FINISH
Looooong peaty and sweet with notes of fruit, spice, dark sweets and an earthy woody darkness that fades to a sweet ashy char.
BALANCE, BODY & FEEL
Pristine balance, round thick body and a heavy silken texture.
OVERALL
Ardbeg Airigh Nam Beist is amazing. Sweet smoky dessert nose, powerful complex and nuanced flavor and a long tasty finish you don't want to end. This might be my new favorite Ardbeg… if it was still being made and not only available in auctions and high-priced whisky specialist sites. Though it is possible to still get lucky, I found this bottle just sitting on the shelf at a store here in SoCal so there is still hope… just not a lot.
SCORE: 95/100