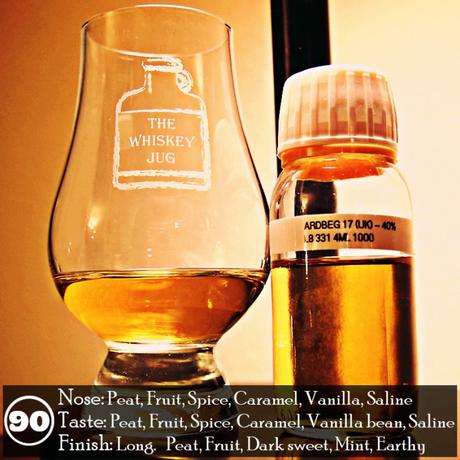 Ardbeg 17 is exactly what it sounds like. Ardbeg that has been aged for at least 17 years. If you've been following along during the last couple of weeks you'll know I've been getting into the history of each dram and this lovely Ardbeg 17 year old is going to be no different. So let's load up the Ardbeg history timeline on Ardbeg Project and take a look at what was going on at the distillery when this whisky was created.
Looking at the bottle code it shows that this comes from a L 8 331 bottle which lets us know it was bottled on November 27 1998. That means it was bottled under Glenmorangie PLC and the youngest whisky in this bottle would have been distilled in 1981 before the distillery was closed on March 25th. Ardbeg remained closed till 1989 so the youngest juice in here is some of the last distillate before it's 8 year closure. Pretty neat.
Ardbeg 17 Review – UK Release
Distiller: Ardbeg
Age: 17 years
ABV: 40%
Bottling: L 8 331 4ML 1000
Price: $380+ (auction & specialty shops)
Non-Chill Filtered
Natural Color
EYE
Honey
NOSE
Peat and complex fruit battle head to head with some nice notes of spice, caramel, vanilla, saline, dark fruit and a bit of dark woody earthiness. It's nice and inviting from first sniff to last.
PALATE
The flavor mimics the aroma almost exactly with notes of peat and complex fruit taking charge with nice notes of spice, caramel, vanilla beans, saline and that same dark woody earthiness coming through. Though unlike the nose some lighter notes of butter, citrus oil and a touch of mint also come through.
FINISH
Long, peaty and fruity with lighter bits of dark sweets, mint and that dark earthy woodiness from before.
BALANCE, BODY & FEEL
Well balanced, a round full body and a smooth thick texture with nearly zero alcohol burn.
OVERALL
Ardbeg 17 is different animal than any of the 10s I've had, but has that same dark woody earthiness that, so far, I've only come across in the Allied distilled stuff. It's interesting and adds a nice dimension. There's also the fact of the extra 7 years of aging to take into consideration though. More time in the cask will also mellow the sharp character of the younger 10 and it's definitely done that here. Ardbeg 17 is a nice, mature and relaxing dram from start to finish.
SCORE: 90/100