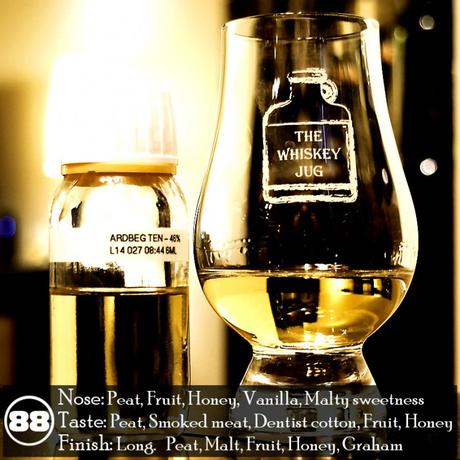 Ardbeg 10 yr L14 027 is one of the 2014 released batches of Ardbeg 10 and in my opinion it's a step up from the 2013 release. It seems to be a bit lighter than some other releases but the '14 is a good solid release with a lot to offer. I haven't seen or tried the 2015 yet, but I'm curious to see how it pans out and expect to see a review of it here sometime in the near future so we can make a nice solid run of '12, '13, '14 and '15 to see what direction Ardbeg is heading.
Doing this run of Ardbegs for Ardbeg April has given me a new appreciation for the distillery and I think what amazes me most about Ardbeg (besides its flavor and aroma) is how scrappy and tenacious this brand is. It's been duking it out and bouncing between open and closed since 1815 and in the last few years has rebounded to become one of the most loved and sought after brands by whisky geeks the world over. It's really a fascinating transition and history and if you're interesting in knowing more check out the history of Ardbeg on The Ardbeg Project.
Ardbeg 10 yr Review – L14 027
Distiller: Ardbeg
Age: 10 years
ABV: 46%
Bottling: L14 027 08:44 6ML
Price: $50
Non-Chill Filtered
Natural Color
EYE
Pear juice
NOSE
Peat is a bit lighter than in the L12 or L13 but still dominates like in every Ardbeg 10 yr I've had. Following the smoky peat comes some nice notes of rich tropical fruit, honey, vanilla, malty sweetness, graham and citrus peel. Some nice notes of salinity and spice mix with a touch of red licorice in the background.
PALATE
The palate makes up for the nose in the peat department. Here it's powerful and punchy with deep notes of smoked meat, dentist cotton and a rich complex fruit accompanying it. Some nice notes of honey, spice, malty sweetness, grilled bread and graham crackers also come through.
FINISH
Long and peaty with notes of malt, fruit, honey, graham and a medicinal character.
BALANCE, BODY & FEEL
The nose is light but the palate is powerful and so it doesn't feel consistent, but there's a decent harmony in the component parts. Rich round body and a nice slick texture.
OVERALL
Ardbeg 10 yr L14 027 is a great addition to the Ardbeg 10 lineup. While the nose does come across a bit light the flavor is amazing and dynamic and full of everything you want in an Ardbeg 10 yr. 2014 looks like it was another good bottling year for Ardbeg and the L14 027 is one to keep an eye out for next time you're picking one up.
SCORE: 88/100