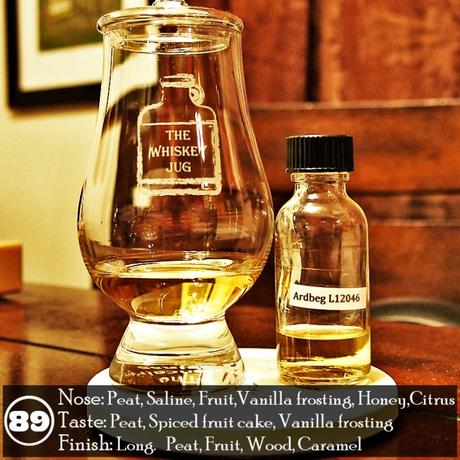 Ardbeg 10 yr L12 046 is mostly made of distillate from 2002 which is 2 years from before the LVMH acquisition of Ardbeg and Glenmorangie, but 5 years after Glenmorangie bought Ardbeg from Allied-Domecq PLC and 4 years after Dr. Bill Lumsden joined the team. Meaning the juice in this bottle comes to us from a time after Dr. Bill and team had already dialed in what they were going to be doing to make Ardbeg what it is today.
Matured exclusively in ex-bourbon barrels, the Ardbeg 10 is the truest expressions of what Ardbeg is doing year over year. It's the yardstick by which the distillery can be measured and is also why noting the bottling codes is so important when doing a review because it can, and does change from release to release. This is so interesting to at least 1 whisky geek in particular that he has a whole site dedicated to tracking the codes at the Aptly names Ardbeg Project and you should check out Tim's work.
Ardbeg 10 yr Review – L12 046
Distiller: Ardbeg
Age: 10 years
ABV: 46%
Bottling: L12 046
Price: $50
Non-Chill Filtered
Natural Color
Non-Chill Filtered
Natural Color
EYE
Pear juice
NOSE
Wow the peat is big and punchy here with a complex spice battling for dominance. Strong notes of saline, fruit, vanilla frosting, honey, citrus and jerky come through as well with some light plasticy notes of Fruit Roll-Ups coming through now and then.
PALATE
Smoky peat layered over a well spiced fruit cake that's covered in vanilla buttercream frosting. Add some light notes of hazelnuts, honey, caramel and dentist cotton and you have a delightful flavor that's likely to put a nice smile on your face if you're a fan of this style.
FINISH
Long peaty fade sprinkled with notes of fruit, wood and caramel.
BALANCE, BODY & FEEL
Well balanced with a round thick body and smooth heavy feel.
OVERALL
Ardbeg 10 yr L12 046 is great. Punchy, powerful, peaty and spicy nose leading to the smoked fruit cake palate and long tasty finish is great. 2012 was a great year for Ardbeg TEN and it's now a year I'm going to be keeping an eye out for when looking at bottle codes in little shops that don't move through their Ardbeg very quickly.
SCORE: 89/100