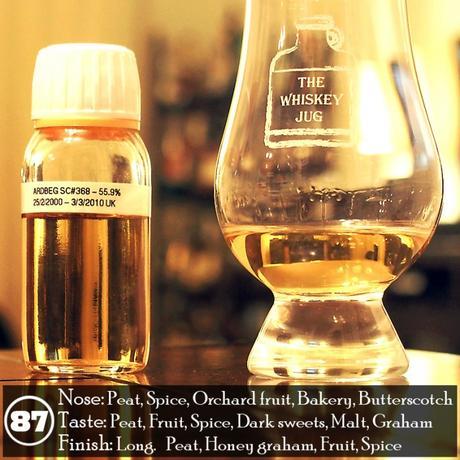 As the name "Ardbeg 10 Years Single Cask" would suggest this is a single cask release of Ardbeg that's been aged for 10 years. Though what the name doesn't tell you is that this is also released at Cask Strength giving you as much of the burly, raw, phenolic whisky experience as it possibly can.
I love single cask whiskies, and I love cask strength single cask whiskies even more. There is not a truer way to get to know the character and underlying complexities of a whisky (or whiskey for that matter) than to try it in as natural of a form as you possibly can and short of going straight from the barrel this is the best you can get. Long live cask strength single barrel monsters like this, they're always so much fun to taste.
Ardbeg 10 Years Single Cask Review
Distiller: Ardbeg
Age: 10 years
ABV: 49.9%
Price: $600+
Non-Chill Filtered
Natural Color
Cask Strength
Cask: 368
Distilled: 2-25-00
Bottled: 3-3-10
EYE
Pear juice
NOSE
Peat, spice, orchard fruit and a doughnutty bakery sweetness with some bits of butterscotch, citrus peel, sweet grassy malt and a bit of brittle. It's a nice aroma, but feels like it's missing something, like it's just not quite yet an Ardbeg. Water doesn't really help or uncover that missing X factor for me.
PALATE
Peat, fruit and spice again dominate along with notes of dark sweets, grassy malty sweetness, honey graham and a light woody character. Like the nose, the flavor is nice, but it feels a hair off, like it's just 2 degrees off Ardbeg center. Again, water doesn't uncover anything else.
FINISH
Long and peaty with notes of honey grahams, fruit and spice.
BALANCE, BODY & FEEL
Good balance, medium-full body and a heavy oily texture.
OVERALL
Ardbeg 10 Years Single Cask is pretty good, but I keep coming back to the fact that I feel like something is missing, like it's not 100% whole. I can't exactly say what it is that's missing or why, but that said it's still a tasty and aromatic whisky. It has a nice nose of smoked apple cider and a palate of smoked wassail that fades to a sweet peated finish. All-in-all not bad, just missing something to send to the next level.
SCORE: 87/100