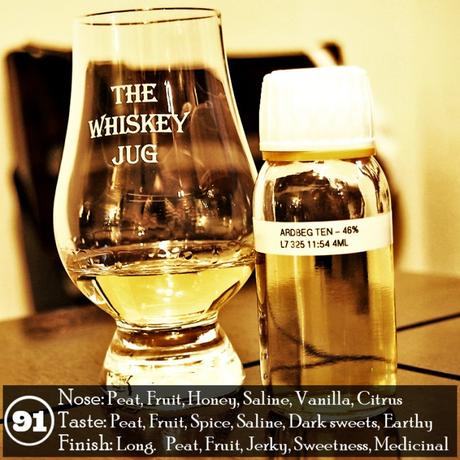 I'm completely blown away by the Ardbeg 10 L7 325. Compared to all of the other Ardbeg 10s I've had so far this month (5 so far) this one is head and shoulders above the rest. L7 means it was bottled in 2007 so the youngest whisky in it had to be distilled in 1997 which was the year Glenmorangie bought Ardbeg, but they didn't start distilling till June 20th that year and didn't start full production till 1998. Then you have the Path To Peaty Maturity which was the run-up to the releases of the "New" Ardbeg 10 which took place from 1998 – 2008 and was touted as being the first 10 totally distilled under Glenmorangie.
Since this, the L7 wasn't lauded as such it leads me to believe it contains Allied distilled whisky, but the distillery was closed sometime in '96 till Glenmo bought it in '97 and from 89-96 Ardbeg was only open and distilling for 2 months a year. So it makes sense to me that there could be some pre-Glenmo juice in here. There was also a rumor around 2007, prompted by an Ardbeg employee, that the L7s were a mixture of Pre & Post Glenmo purchase. So a whole lot of conjecture on the story, but here on TWJ we're just going by taste and smell!
Ardbeg 10 Review – L7 325
Distiller: Ardbeg
Age: 10 years
ABV: 46%
Bottling: L7 325 11:54 4ML
Price: NA (auction / dusty)
Non-Chill Filtered
Natural Color
EYE
Light honey
NOSE
Deep rich peat, complex orchard and tropical fruit and warm honey ooze out of the glass. Notes of salinity, vanilla, citrus, anitiseptic, caramel, citrus and spice accompany at intervals. This is just a great aroma.
PALATE
The palate keeps pace with the nose and is every bit as rich and flavorful. Rich velvety peat, complex fruit, complex spice, saline, dark sweets ,a dark woodiness and citrus with a light bit of vanilla and honey graceful interwoven. It's awesome.
FINISH
Long and sultry fade of peat, fruit, jerky and a complex sweetness all riding a light medicinal character.
BALANCE, BODY & FEEL
Perfectly balanced with a rich round body and an oily heavy texture.
OVERALL
Holy crap Ardbeg 10 L7 325 is amazing! It needs a little more oomph to reach the epic status, but seriously this batch was so well put together it's a little nuts. I love the little dark nuances in it an the way it all comes together. If you magically stumble across a 10 with a L07 code on it snatch it up immediately.
SCORE: 91/100