This Saturday is Free Comic Book Day across North America and the world – a day where participating comic shops give away comic books to anyone coming into their stores.
Archie Comics – a Gold Sponsor of the event – will have two offerings: ARCHIE DIGEST #1 and the SONIC THE HEDGEHOG/MEGA MAN FLIP BOOK #1, giving readers some classic Archie goodness and teasing some of the upcoming storylines hitting in the Archie Action line of video game titles.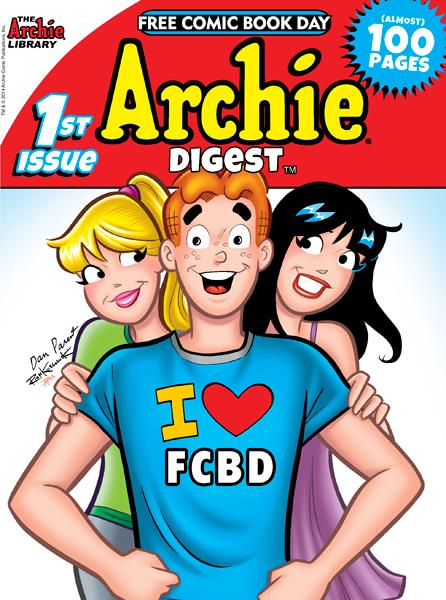 ARCHIE DIGEST #1
The world's most famous teenagers for over seven decades are all here in this FREE digest! Packed with non-stop laughs and gaffs, we challenge you to find a FCBD offering with more pages than this! The perfect introduction to the world of Archie and his friends, this digest is filled with stories from some of the best creators in the business!
Script: George Gladir, Various
Art: Fernando Ruiz, Various
Cover: Dan Parent, Rich Koslowski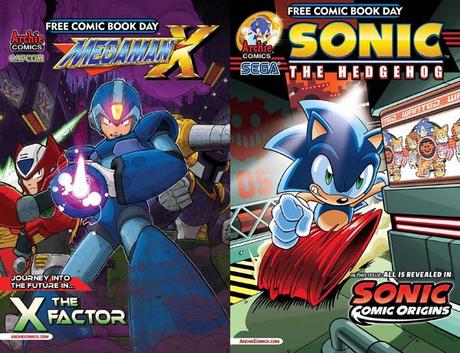 SONIC THE HEDGEHOG/MEGA MAN FLIP BOOK #1
Its TWO free comic books in ONE! Hot off the heels of the ultra-successful Sonic/Mega Man crossover event, "Worlds Collide", comes a showcase issue of the hottest new storylines in both characters' universes – exclusively for Free Comic Book Day! Sonic stars in "Blast to the Past" featuring the origin of his Freedom Fighters! Then, on the flipside of this issue, get ready for the "Mega Man X" crossover event with this primer story!
Script: Ian Flynn
Art: Patrick "SPAZ" Spaziante, Lamar Wells, Various
Cover: Tracy Yardley, T. Rex
But it doesn't stop there. Archie Comics writers and artists will be visiting comic shops around the globe! They will be on hand to sign books discuss their work. Here's a rundown of where they'll be and how you can find out more:
•Dawn Best (Sonic the Hedgehog) – Packrat Comics in Hilliard, OH
•Craig Boldman (Jughead) – University of Akron's Quaker Square General Store & Newsstand Comics in Akron, OH (10am-4pm)
•Steven Butler (Sonic the Hedgehog) – 3 Alarm Comics in St. Martin, MS (11am-6pm Saturday)
•Steven Butler (Sonic the Hedgehog) – 99 Issues in Mobile, AL (2pm-6pm Sunday)
•Bill Galvan (Betty & Veronica) – Dragons Keep in Lehi, UT in the morning and Provo, UT in the afternoon
•Jerry Gaylord (Sonic the Hedgehog) – Captain Blue Hen Comics in Newark, DE (10am-5pm)
•Dean Haspiel (The Fox) – Carmine Street Comics in New York, NY (1pm-4pm)
•Ben Hunzeker (Sonic the Hedgehog) – Challenger Comics in Chicago, IL
•Rich Koslowski (Archie) – Art Supplies, Ink. in Aptos, CA (2pm-5pm)
•Gary Martin (Mega Man) – Odyssey Comics in Vancouver, WA (9am-5pm)
•Alice Meichi Li (Mega Man) – "Women in Comics" panel at the Bronx Heroes Comic Con in Bronx, NY (3:30pm-4:30pm)
•Dan Parent (Archie) – Main Street Comics in Middletown, NY (2pm-4pm)
•Fernando Ruiz (Archie) – Dewey's Comic City in Madison, NJ (1pm-4pm)
•Jeff Shultz (Betty & Veronica) – That's Entertainment in Worcester, MA
•Evan Stanley (Sonic the Hedgehog) – Flying Colors Comics in Concord, CA (11am-3pm)
•J. Torres (Jinx) – Stadium Comics in Brampton, Ontario (10am-2pm)
•Stephanie Vozzo (Betty & Veronica) – Granite City Comics in Saint Cloud, MN (10am-12pm)
•Mark Waid (The Fox) – Alter Ego Comics in Muncie, IN (12pm-4pm)
To find a participating Free Comic Book Day shop: http://www.freecomicbookday.com/storelocator
Share on Tumblr