The median sale price of $182,312 for April 2013 was the highest median sale price since 2008, when prices crashed the last part of the year. This increase reflects traditional sellers getting back into the market.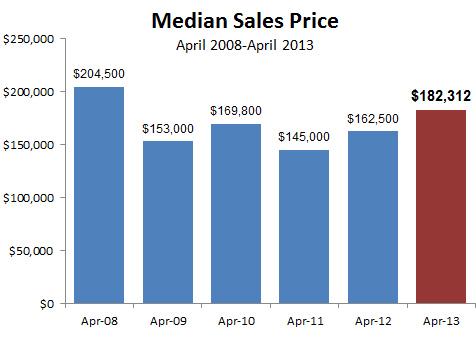 Foreclosures and short sales have been dominating the market since 2008. The rise in median price is driven not only by the short supply of homes for sale, but also by the rise in traditional market share, finally getting back to pre-crash levels as illustrated in this graph from the Minnepaolis Area Association of Realtors.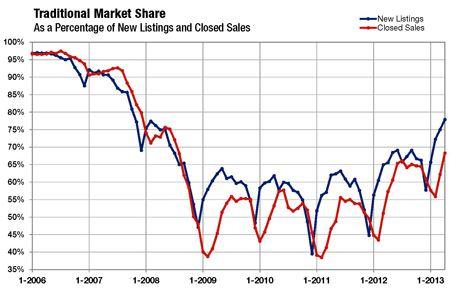 Traditional closed sales in April commanded 68.4% of the market... but even more impressive is the 77.9% market share of traditional listings that pended in April 2013. This is a sign that the market is indeed recovering.
We are still short on inventory, but even new listings are increasing... only to be snatched up by eager buyers, leaving the total number of homes mostly holding steady.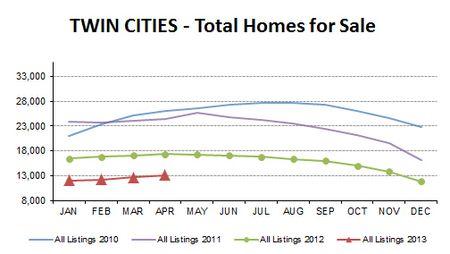 Pending sales are strong, not surpassed since 2006 according to this graph from the Minneapolis Area Association of Realtors.

With traditional sellers back in the market place, buyers are again seeing higher quality homes and a much smoother process. But with the continued shortage of inventory, many buyers find themselves competing with other buyers rather than negotiating with the seller.
The figures above are based on statistics for the combined 13-county Twin Cities metropolitan area released by the Minneapolis Area Association of Realtors.
Never forget that all real estate is local and what is happening in your neighborhood may be very different from the overall metro area.
Click here for local reports on 350+ metro area communities
Click here for current interactive market analytics by area, city, county, neighborhood or zip code
Sharlene Hensrud, RE/MAX Results - Email - Twin Cities Real Estate Market