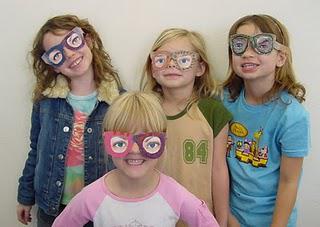 These glasses are pretty much guaranteed to create lots of giggles. Just be sure that children don't try to do much more than pose in them.


1. Follow this link (eyeglass template) to download a template I've posted for the glass frames. Print out copies on the heaviest paper stock available. Give each student a set and have them cut out all 3 pieces, including the inside of the frames. Tape sides to the front. The students decorate the frame with colored pencils or markers.
2. I found some stock photo images of eyes, and made lots of color copies for the students to pick from. Another option is to have realistic drawings of different eye shapes, and let the students choose and color their favorite. Or they could draw their own. Either way, the eyes and skin need to be colored, and then cut out and glued behind the eyeglass openings.UPDATE:

Thanks to my discovery of Scribd.com, I have posted a pdf of the eye photos I used HERE. If you don't have a color printer, laser prints that are hand colored might work well too.