April's birthstone is the one and only DIAMOND! Insert all the bow down emojis.
This most-revered of all gemstones commands attention every month of the year, but this month it's all diamond, all day. I can't think of a better way to celebrate than with some good, old fashioned, Engagement Ring Eye Candy!
Let's dig in.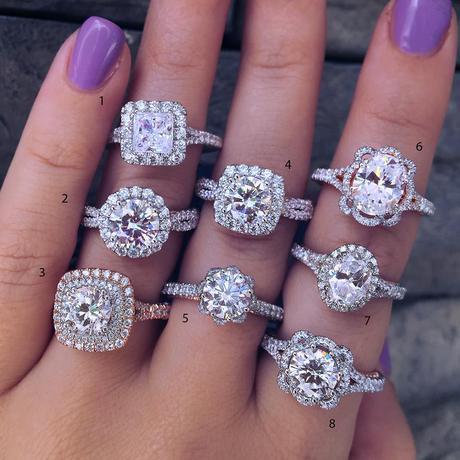 Oh, Verragio. Shine on you crazy diamonds. This smorgasbord of halos is a fantastic representation of Verragio's entire line. While each collection might be different, they all come back to the brand's major design philosophy: an engagement ring should be as beautiful as the woman who wears it. That's why even the sharp lines of a princess cut – like in halo #1 – are softened and just as romantic as a fully floral inspired design like #8. Add to this the penchant for rose gold details, like on #3 and #6, and you can see why Verragio designs are so popular and adored.
1- Classic Princess Halo
2 & 4- Venetian Halo
3- Couture Double Halo
5- Couture Solitaire
6 & 8 – Couture Floral Halo
7- Couture Oval Halo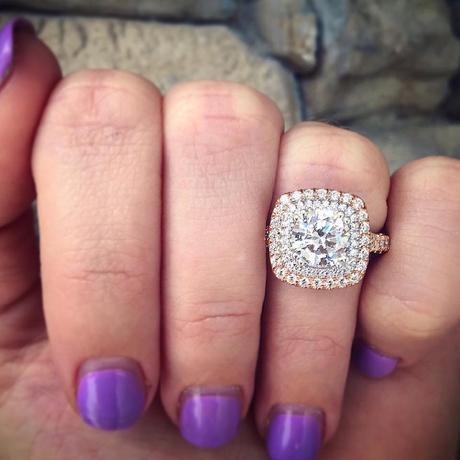 In this shot, the double halo goes solo so we can get a better look. The subtle split shank is barely visible beneath the enormous outer halo, which got the rose gold treatment. We transition into white gold for the inner halo and center diamond prings, all the better to showcase your choice of round brilliant or cushion. The diamonds on this setting weigh .45ctw between both halos, the halfway pave shanks, and Verragio's signature diamond accents on the profile.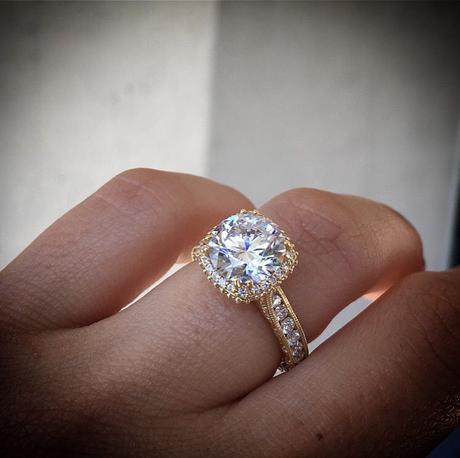 YOWZA! Nobody does big and bold like Tacori, and this Tacori Gold cushion halo is perfection. The large channel set diamonds in the ring's shanks combine with the delicate shared prong halo to add 1.28 carats of Gorgeous, Very Sexy diamonds to this rich 18kt yellow gold cushion halo. Speaking of cushions, it will accommodate a cushion cut just as well as the round shown here. The only stipulation: It's gotta be bigger than 2 carats!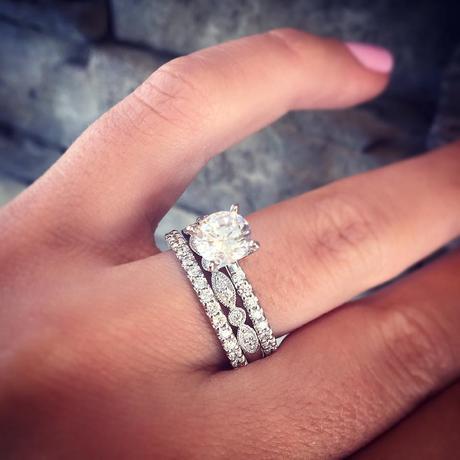 When I look at Gabriel NY diamond stacks, my eyes light up like a kid on Christmas morning. Like the way my dog looks at pizza crust. Like the way Ben Higgins looks at Lauren B. Can you blame me? Just take this one for example:
Perfectly delicate diamond solitaire? Check.
Antique-inspired diamond band with texture? Check.
A twin band to match the engagement ring and round the whole thing out? Check.
And, most importantly, plenty of room to keep adding more Gabriel stacking bands.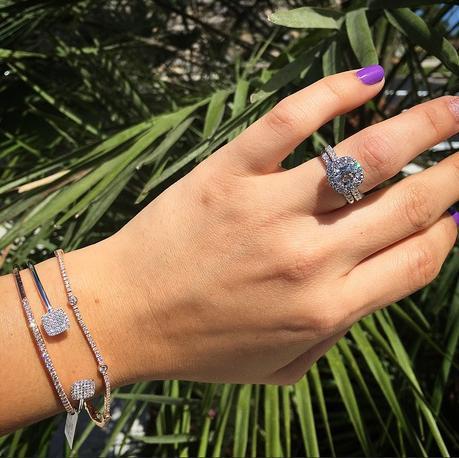 Let's take things to the garden. First up, a gorgeous floral Gabriel setting with approximately .95 carats of accent diamonds on the straight shank and large, scalloped halo. Please, feel free to admire the delicate diamond bracelets too (I know I am.)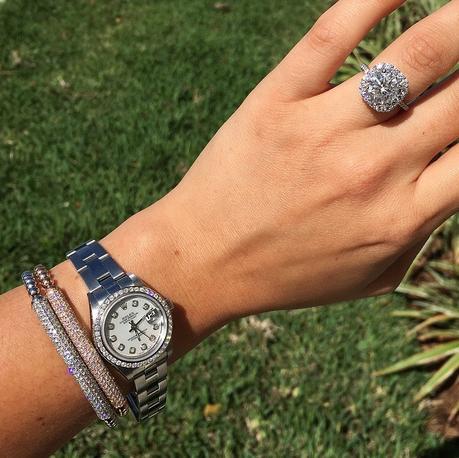 But maybe you need to bump things up a notch? How about a carat or three? This 3.84 carat round brilliant should hit the spot. It's a great J in color and a surprisingly inoffensive I3 in clarity (you can see the inclusions a lot more in the product listing than you can in this "real life" shot.) But for a 3+ carat diamond those inclusions shave a whole lotta Benjamins off the final price. And you have to remind yourself not to get distracted by the .96ctw halo, so I'll allow it.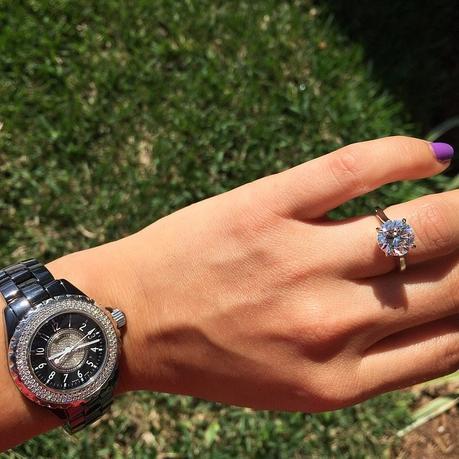 If, however, money is not an issue and you want a simple setting cooked to perfection, I've got you covered there too. May I present a fab.u.lous. 3.65 carat, GIA certified round brilliant? It's H color, and VS1 clarity, on a clean, classic platinum 4 prong setting. Mouthwatering!
So, April babies, which of these do you want for your birthday? And if you're unlucky to have some other birth month like I do, what should we put on our holiday wish lists?