Recipe Number One Hundred & Four:  Page 122.
I was quite intrigued by this recipe as I had never heard of Swiss cakes before. There isn't a photograph of the finished result in the baking bible, just a black and white drawing!! Looking through the recipe I thought they should be fairly easy to make; I imagined I could make them in about half an hour from start to finish. I was a little confused by the name of the recipe as, looking at the list of ingredients; I couldn't help but think it was more of a biscuit than a cake.
I placed 12 cupcake cases into my bun tin and then set to work on the Swiss cakes. The first instruction was to soften an obscenely large amount of butter in a large bowl. I didn't think Mary meant to soften the butter in the microwave, so I used a wooden spoon to smooth the butter into a more softened state. I sifted some icing sugar into the bowl; I only needed a very small amount in comparison with the butter. I assumed the icing sugar would make the cakes melt in the mouth. I used my electric whisk to beat the two ingredients together. It took quite some time until they came together to form a soft and fluffy mixture. I tipped in a lot of self raising flour, followed by a modest amount of cornflour. This is the first time I have used cornflour in a Mary Berry recipe, how exiting! I don't know a lot about cornflour, just that it is used as a thickener in sauces and gravies etc. I wasn't too sure why Mary had chosen to use it in this recipe. I used a wooden spoon to mix the flours into the butter and sugar. I think things would have become rather messy if I had used my electric beaters! Eventually, after a lot of elbow grease, I had a creamy thick mixture. Now came the fun part of piping the mixture into the cupcake cases. On my last visit to the Island to see my family, I had left behind two of my large star piping nozzles. My mom kindly posted them on to me amongst the other things that I had forgotten! Goodness knows where I had put them. I hunted through the house but they were nowhere to be seen! We have a lot of building work going on in our house at the moment. Neil is building a downstairs toilet from scratch, so everything is all over the place; this doesn't help my scatterbrain one bit!! In the end I had to settle for a cheap plastic star nozzle. On my first attempt, I forgot to put the nozzle in the piping bag!!!! Second attempt, only a teeny tiny amount of mixture came out. I squeezed with all my might, but it wasn't budging! I had to transfer the mixture to another piping bag and gave up using a nozzle altogether, but even then it was impossible. Neil flexed his muscles and managed to pipe a circle of mixture into the base of each paper case, phew! He had a very red face by the time he'd finished! The by now hated Swiss cakes went into the oven; it only took an hour to get them there!! At least the cooking time was short as, after 15 minutes, they were ready. The hole in the middle of each cake had disappeared but there was a slight indentation. I expect they would have looked prettier if I had managed to pipe with a star nozzle. However, I'm not sure if they would have kept their shape very well when rising in the oven.
Once the cakes were cold, I put a dollop of apricot jam into the dip in the middle of each cake and dusted with a little icing sugar. They looked rather sweet and I can imagine they would fit in well at a kid's party. Neil was very surprised when he took a bite into a Swiss cake. He said that, although they looked like a cake, they were definitely more of a biscuit. When I tried one, the first thing I thought was that it tasted much the same as a Viennese finger. They did indeed melt in my mouth and were rather crumbly. They were also quite rich due to all the butter, but also rather addictive! Shame they were such a faff to make, but I believe this to be due to it being such a firm mixture it was impossible to pipe. It was a very chilly day so maybe that made things more difficult. If I attempt these again, I will make sure I bake them during a heatwave!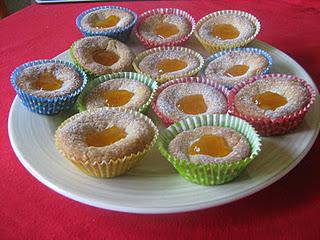 These may look like uncooked cakes but are infact more of a biscuit!