Have you ever thought what the purpose of a dehumidifier is, when will you need it and how to choose one? 
A dehumidifier is a machine that removes moisture from the interior air of a room and maintains the room's humidity levels through a humidistat.  Ideal relative humidity levels in British homes is 50 to 55%.  Air which is too dry can cause dry skin and create static shocks around the house.  Too much moisture can encourage mold and allergen growth leading to risks of health problems and can 
cause damage to the house
If you find that your walls have mold spots, musty smells/odours or condensation on the windows, you may need a dehumidifier to get rid of the dampness around the house.  Mould or mildew can cause serious health problems so it is always important to inspect your walls.  Don't wait until it is too late.
Dehumidifiers come in different shapes and sizes.  So how do you choose the right one for you? 
Firstly, you have to decide the coverage and output capacity of the room/house.  Then the size of water tank.  Do you want to keep having to empty it every so often?  Next, consider the other features of the dehumidifier like auto-off when the tank is full, the speed of the fan, the humidity reading etc.
Appliances Direct has kindly sent us the Amcor PLDM18E Dehumidifier with humidistat for up to a 4 bedroom house.  This unit features electronic control panel with accurate humidistat and a 24 hr stopping timer, large 3 liter tank and 2 speed fan for a good balance between improved air flow and quiet operation.  Also permanent drainage facility is provided for unattended operation.  The top air vent is ideal for laundry drying.
This is very slim and stylish with a soft touch LED control panel.  It weighs around 11 kg and comes with a carry handle and castors for portability.  It comes with a 3 liter water tank with auto shut off at 2.7 litres.  It also come with a spare washable air filter.  The dimensions of the machine is 310 x 530 x 230 mm.
I have been using it for a week now around the house especially around the family bathroom and kitchen.  I was astonished that I have to empty the tank every 8 hours.  I'm shocked that there is so much moisture in the air!  Each time, the room humidity level is around 60% which is over the ideal levels. 
This machine is very easy to use and efficient.  The cable hides nicely inside the water tank when not in use.  The water tank is easy to remove and comes with a handle to hold.  I was very impressed with the amount of water it removes each time.  It took me a while to get use to the fan as it can be quite noisy at night when there is no background noise.  
It uses 198.6 Watts using the low fan speed which equates to a running cost of 3.2p per hour (assuming it costs 16p per kWh unit).  Overall, this is a very effective machine.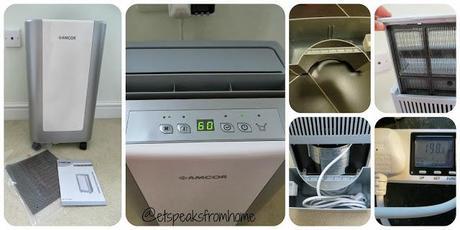 We were also given the Amcor MD100 Rechargeable dehumidifiers to test.  This is a rechargeable mini desiccant dehumidifier for use in small spaces where traditional dehumidifiers cannot be accommodated or power is not always available.  It is ideal for cupboards, wardrobes, storage boxes, cars, small caravans, boat or motorhome drawers, etc.
We used it in the car and cupboard.  They are economical to run and uses only 25 Watts per hour per recharge.  The desiccant crystals change color from blue to purple to pink. It can be quite hard to see the change in color of the crystals.  So I have been reading it using a table lamp to see it more clearly.  It also comes with 2 hooks but I have found these somewhat ineffective as the dehumidifiers can easily drop out of the hook.  However, it's been no problem to leave on the shelves instead.  This is compact and therefore easy to place anywhere I like.  It will absorb up to 480 ml in it.  Overall this is quite small and affordable as it comes as a pack of two.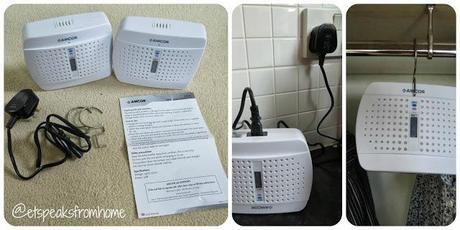 Disclosure: We have received the products to do an honest review.