Many of you would be thinking that Apple is facing heavy losses at the hands of Google, especially after the recent loss in the maps market. Although, Apple has suffered some heavy losses due to its failure in the maps market, but that does not mean that the company is not doing well overall.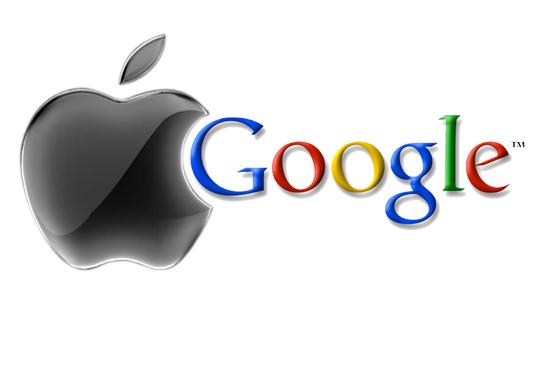 Both Google and Apple are becoming the tech titans of the market, where they dominate the mobile internet access and devices in overall. This leaves investors to wonder which company is best suited for their investment. For normal people, the pick would be as simple as choosing Google, because it is a giant in almost every tech market that is out there. However, investors think a bit differently when it comes to investing in a company. For them, they need to choose a company that is best positioned not just in the current scenario, but a company that is doing well for a long time, and with the tech market looking like creating a situation where winners take all, investors need to be careful when investing in any of these two companies.
Stock Performance
Although, it is obvious that Google is winning against Apple in the race to see who sells the most smartphones, but the battle that is wagging on at the Wall Street, has tilted in Apple's favor. Apple investors know that their investments in the company are among the greatest hauls in the investing history. Apple's stock went public on Dec. 12, 1980 at a price of $22 a share. However, after adjusting for the stock's three splits, the per share IPO price of Apple's shares was $2.75. However, if you look at the prices of Apple shares today, they are being traded at $529.69, which shows an enormous 19,150% increase in its price.
On the other hand, Google went public on Aug. 25, 2004 with $85 a share. Google's shares are being traded at $702.70 today, which show a 725% increase in its price.
Although, it looks like that Google's investors have gained more as compared to Apple's investors, but Google's stock compound averages at 30%, which is well above Apple's. Even then, Apple's investors have been on top this year, even after the 30% decline in the Apple's shares, they are still at 39%. On the other hand, Google's 2012 rise is 9%.
Market Value
Market value is another important aspect, where yet again, Apple is at top. Apple is one of the most valuable companies in the world, with a total worth that is nearly $500 billion. The total worth of Apple is nearly double the value of Google, which is $230 billion.
There is no question that Google is currently beating Apple in many areas, but what makes Apple bigger on the Wall Street is its premium pricing. So, people who think that Apple will soon come crumbling down because of its constant defeats at the hands of Google – Wall Street investors think otherwise about it and show no hesitation in investing in Apple's shares.
Author Bio: Umair Maqsood is a Financial Analyst and a writer. He writes about payday loans and investment Opportunities around the world. You can check the site for moreinformation.