Corporate house Apple has hit the headlines yet again. This time it is not for the launch of their new product, it is because of their recycling program. This corporate giant has expanded its iDevice buyback program. If you wish to trade your iPhone 4S for Apple Store gift cards, you can visit the link from apple to learn more.
There is lot of speculation on why the company has made a move to buy back iPhone 4S. One of the popular reasons being the launch of the much awaited iPhone 5. Competitors feel Apple has made this move to push sales of iPhone 5, which is expected to be launched this September.  The gift cards that people get in exchange, can be used to purchase products from the Apple Store only. Thus, Apple is giving users an opportunity to purchase the iPhone 5.
Apple's recycling program
Apple is not the first company to have adopted the recycling program. The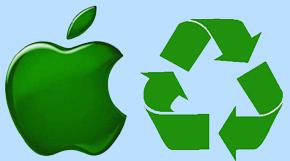 hassle-free recycling procedure makes this program a big hit among users. If you wish to do away with your iPhone 4S, you can take advantage of this user-friendly recycling program. Visit Apple's reuse and recycling page on the official website. You will need to select the product iPhone. From the "select series" dropdown box, select iPhone 4S. Next, you will need to select the model of your iPhone from the 6 options available and hit the continue tab.
On the left hand side of the webpage, the model of your iPhone will be displayed. On the second half of the page, you'll need to answer a few questions about your phone. You'll need to fill a form on questions related to the battery of your phone, any physical damage and the overall condition of your iPhone. Before you trade your iPhone for gift cards, you'll need to remove all of its settings and content, and handover the power cord as well.
On the next web page a review of your answers will appear on the left side with the cost at which you can trade your iPhone. The cost is calculated based on your answers. All calculations are determined by Apple's partner PowerON. The final amount having been calculated, if you are ready to go ahead with the recycling process, you must provide your name, email id and address. Your address will be verified and PowerON will send you shipping material.
Apple offers a good price in exchange of the iPhone 4S. For a 32 GB iPhone 4S in good working condition, without water damages and scratches here and there, Apple offers gift cards worth $280 in exchange. This is not a bad deal at all. About a year ago, a brand new 32 GB iPhone 4S from service providers like Verizon or AT&T was priced around $300.
All said and done, critics argue that Apple has made this recycling program to increase iPhone 5 sales.

Hope you liked this article and we would be more than happy if you share this post with your friends. We will send useful technology related updates in your inbox if you subscribe to us.
Enter your email address :   
Tagged with 
apple apple's recycling