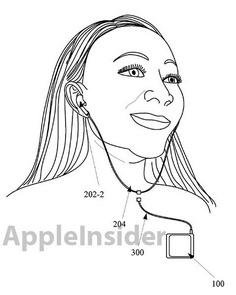 Nowadays a lot of headphones or in-
earphones
that have been designed for sports activities. These headphones are preferred durability and ability to be water resistant. And it seems
Apple
wants to also create similar headphones if seen from the leaked patent documents. The patent is titled wireless listening device that can be removed, essentially describes a pair of earphones that do not require cables and will be connected to the device via Bluetooth.
Another description explains that the earphone can not only be used wirelessly, but also can be connected with a cable if necessary. Normally such features are found in high-end earphones like the Bose QC15 and Shure SE535. But the difference if the earphone cable is unplugged, the earphones will stop a sound.
Apple's patent describes that the earphones and cord can be connected to the magnet as used in the MagSafe adapters for MacBook battery charge. So if users want to charge their earphones can connect via cable to a magnet. Innovation is quite unique from Apple considering his earphones have a standard sound output only.
origin source by ubergizmo