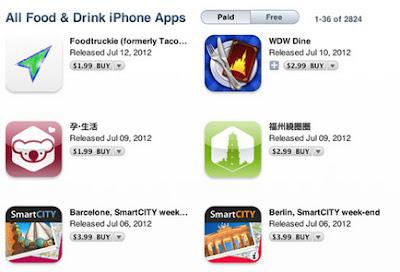 Regardless of male or female, almost everyone prefers certain culinary tourism, which is why
Apple
has just
launched a new category
in the application store which is devoted to
food and beverages.
The application developer now has a special place where they can apply for food recipes, restaurant recommendations, review the food, and everything related to the delights of food or drink. Apple also has the choice to move a number of applications into the segment of the Food and Drink.
Previous applications of recipes, wine, dining, restaurants are mostly located in the Lifestyle category. The segment can now focus more on the lifestyle after regardless of the food and drinks.
Apple has notified developers about the existence of this new segment. So far there are over 2800 and 4000 paid applications for free for iPhone
apps
related to food and beverage segments. While for the iPad has more than 1200 and 1000 paid applications for free applications.
source