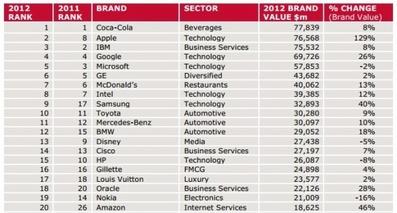 Interbrand, a special consultant and analyst for an international brand based on its annual report of their 13th Best Global Brands .
Apple
is in
second
place, up from rank 8 in last years. Google is in fourth place, while Microsoft is in the order of 5 (previously 3). Most valuable brand Coca-Cola is still the number one of the year 2011.
Not surprisingly, since the popularity of Apple's iPhone and iPad continue to rise, along with the continued record sales of its own. In fact, their brand value rose sharply 129 percent compared to last year.
While their eternal enemies, the
Samsung
for the first time into the top 10, ranking precisely 9. Their popularity rose 40 percent from a year earlier, in which they won only 17 positions. Looks like they are in the Olympic marketing as well as sales of smartphones Galaxy brand awareness they also help South Korean firms. While the mobile phone king Nokia gets dragged past a perched at number 19, whereas last year they were ranked 14th. For more details you can see here.
origin source by IntoMobile