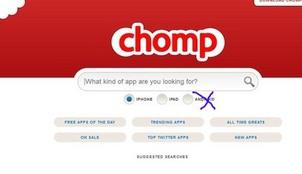 After 2 months after the
Chomp
 acquired by Apple, the Cupertino vendor seems to remove the Android app search in search tool. 
Apple
eliminate a feature that allows users to measure in Android applications in addition to the application's search for the IOS. Chomp itself is a search engine that allows searches based on the application of what can be done by the application is not just through his name.
The service works on a specific algorithm that can recognize and incorporate what is actually offered by the application, based on the description of the development, review of the user, as well as the capacity of the application itself. 
Chomp has been acquired by Apple since last February with a total acquisition of $ 50 million. Taken steps aimed at Apple is expected to take the technology owned by
Chomp
to the latest version of the App Store. source regards, hpmurah2u