When unexpected company arrives, there's nothing like an appetizer you can make in less than 10 minutes, is there?
Thus the reason that I keep frozen cooked shrimp in the freezer. It thaws quickly, and I can honestly say that I haven't had a guest turn down those delectable offerings of seafood goodness.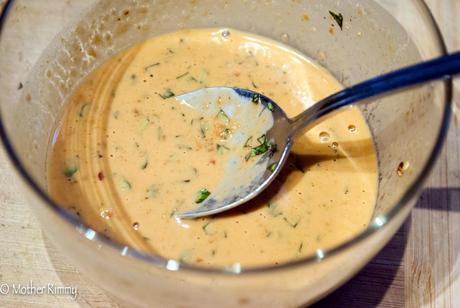 While a tender piece of shrimp is perfect on it's own, I'm a fan of sauces, and I'll bet your guests are too.
I cheated a little with this peanut sauce and grabbed a jar of chili garlic from the frig to give it kick. I love the blend of chilies and garlic. You'll find it in more than one recipe here on the blog.
If you're looking for a more classic low calorie version of Thai peanut sauce, this version from Dr. Gourmet is equally as delicious as the one you see above, and used often in this house.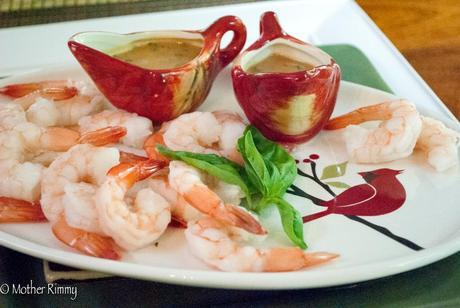 If you're watching your calories like I am, you can afford to indulge in this succulent appetizer. Shrimp is a fantastic source of low calorie protein, and when dipped in this zingy peanut sauce, completely worth every calorie.
Besides, if I can have six shrimp with peanut sauce for under 150 calories, I call that an appetizer worth every calorie!
There you are! A quick and calorie friendly appetizer you can serve company, or even better turn into a meal with a crunchy Asian cabbage salad on the side.
Enjoy!
~Kristi
Print

Shrimp with Chili Garlic Peanut Sauce Appetizer
Serving Size: 4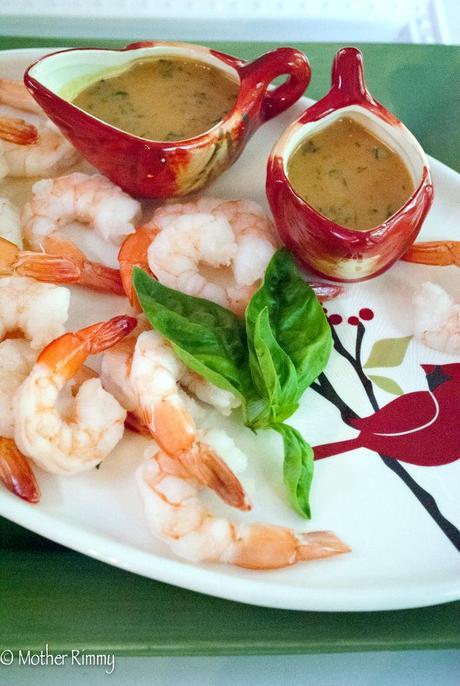 Ingredients
24 large shrimp, peeled and deveined, cooked and chilled
2 tablespoons basil, minced
2 tablespoons 100% peanut butter
1 tablespoon rice vinegar
1 ½ teaspoons chili garlic sauce
¼ cup water, more if consistency is too thick
Instructions
Either buy shrimp precooked, or peel, devein, cook and chill shrimp.
Combine remaining ingredients in a small bowl. Add more water until you have your desired consistency.
Serve peanut sauce with chilled shrimp.
Notes
Food energy: 158kcal Saturated fatty acids: 0.61g Monounsaturated fatty acids: 1.29g Polyunsaturated fatty acids: 0.88g Total fat: 2.77g Calories from fat: 24 Cholesterol: 214mg Carbohydrate, by difference: 4.15g Total dietary fiber: 0.39g Protein: 25.02g Total lipid (fat): 4.15g Water: 160.71g Ash: 3.43g Total sugars: 0.68g Calcium: 96mg Iron: 0.54mg Magnesium: 50mg Phosphorus: 441mg Potassium: 245mg Sodium: 1000mg
2.5http://motherrimmy.com/appetizer-recipe-shrimp-chili-garlic-peanut-sauce/Mother Rimmy�s Cooking Light Done Right by Kristin A. Rimkus is licensed under a Creative Commons Attribution-Noncommercial-No Derivative Works 3.0 United States License.