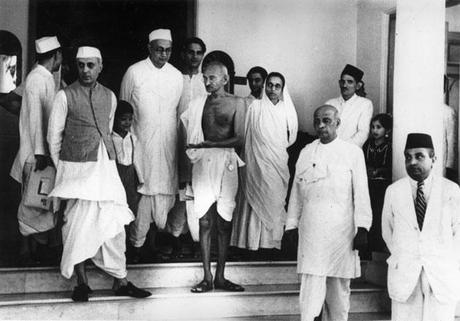 It was today only I was reading a book by R.K. Narayan titled "Waiting For The Mahatma" and it caught my friend's attention. It came as a real shock to me when I heard someone speaking nonsense of Mahatma Gandhi.I cannot even speak those words. 
Yes, that's true. Maybe because we friends never come up with this topic. Also I agree each one of us has got the "Freedom Of Speech" and a particular opinion of our own but as we all know our generation has some really cool people (as they think they are!)who think highly of themselves. They feel India getting an Independence was a mere joke.
 I am not someone who follows Gandhian principles strictly.Its really difficult I know. But I try.Very few people can live upto those. Nor I am here to ridicule someone. But for the man who imbibed that enthusiasm, that courage, for the freedom struggle of our country, at least he deserves some respect if not anything else. Please!
So, the next time you ask yourself what actually Gandhiji did, then imagine how it feels when you are just someone's slave.