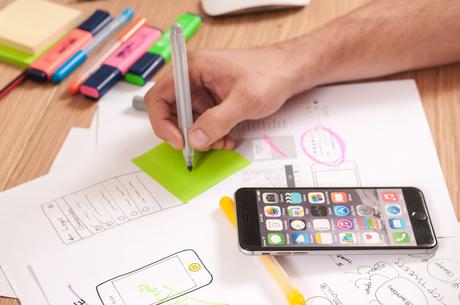 When it comes to growing and allowing your business to thrive this year, one of the best things you can do for your brand is learn how to reach more people. As a business you will want to be at the forefront of your audience's mind at all times, as well as always attracting new people to your brand. A great way to do this if you want to up your game is to make an app.
Apps are used every single day by millions of people to interact with their friends, play games and edit documents. Every single day people will spend time interacting with their favorite brands and this can offer a huge opportunity for these brands to thrive. If you are thinking of building an app for your business this year, take on some of our design tips to help your app stand out.
Make It Responsive

 
The most crucial factor you need to take into account when building an application for your business is functionality. The way your application works in the hands of the user is the most important part of the process and this trumps any design features you may otherwise want to add. If you are wondering how much does it cost to create an app, it all depends on the type of app you want to build. Something which shares simple blog posts will be much easier to make than a game with great graphics. Spend time on the way your app works and be sure to test it again and again to make sure it is the best it can be.
Iterative Design

 
If you haven't heard of this term before, Iterative development essentially describes a type of app design which is all about using data from user testing to make your app. This is a way to ensure that the function of your app is the best it can be and that your users will be happy with the end result you give to them. Using these insights can make a big impact on the success of your app and the audience you are able to keep.
Keep It Simple

 
Honestly, as many amazing ideas as you may come up with during your time building an app, it is always better for you to keep things simple and easy to use. It is always an issue to try and fit too much into your application, and if you make a mistake with it this can have a huge impact on your app and how well it works. Be sure to keep your design simple and minimal and make it feel clean and sleek. This will attract many more people and you are likely to build up a loyal audience of users this way.
Test
One of the most important stages of building an app full stop has to be testing said app for functionality and usability. You can use a test group of random people to do this for you and this will ensure that any feedback you get from them is unbiased and accurate. Doing this can make things a lot easier for you and it will ensure that you can make any changes before rolling the product out on to the market.
Use imagery
One of the best things that you can do to pull people in and let them enjoy your application is to use imagery. As we know, a picture speaks a thousand works and creating a great set of images for your app can attract many more people and make them much more likely to choose your app over similar ones. Be sure to use stunning color and light for your applications to enhance them as much as you can and this will bring people to you much quicker.
Consistently Update
As with any other piece of technology, you will always want to improve your functionality and add new features every so often to keep things fresh and exciting. Updating your application can include adding new products, adding bug fixes and changing the layout and features of the app. You will also want to think about updates on software for mobile devices and ensure that your application is equipped to make the most of these updates. You will want to see the new features they have on offer and use these features to update your app.
Think Of Your Market
When you go into business in any capacity it is crucial that you are aware of your market and the things you can do to compete with other brands who offer the same thing as you. Be sure that you think about what your market needs and if there are any gaps in products or features which you can fill with your expertise. Being able to identify a gap in the market and fill it is a huge skill and it can make all the difference to your brand.