Hand cream is such a huge handbag thing for me. I need to have at least one in there. At the moment I have 3 for some reason! I don't know, but I feel hand cream is like one of them things you get addicted to? If it's with you, you will use it 32456 times a day. My recent addition is the Apivita aloe and honey hand cream*.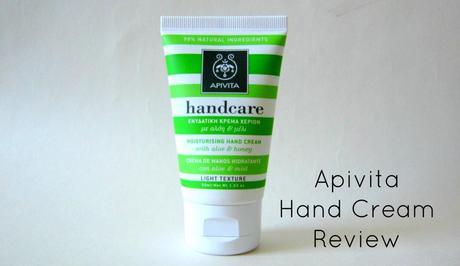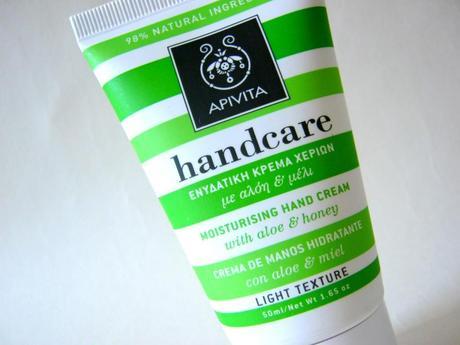 This is the first product I've tried from Apivita. It's an aloe and honey based hand cream that claims to have a light texture and p

reserves skin's natural moisture. It prevents it from drying and helps to maintain smooth and soft skin. It contains aloe, honey, natural oils and butters. 
The texture really is light. I think this is what a hand cream consistency should be like rather than being too thick which can often translate into a greasy mess or not being able to be absorbed fully. It's not thin in anyways but perfect. It gets absorbed straight away and makes your hands feel incredibly soft and almost silky. This is some good stuff guys. And it also smells lovely. I can't really put my finger on it as to what the scent is but it's really fresh and feminine in a way which is a nice change from all the sweet scented products. It contains no parabens, silicones or mineral oil. Along with moisturising your hands it also nourishes your nails and cuticles. I've been reaching for this rather than my S&G one which I also like. I just prefer this scent and texture a lot more. The size of the product is great. Handbag friendly and love the green and white. 
I would really recommend the Apivita aloe and honey hand cream.
You can check out Apivita here. 
Hareem x