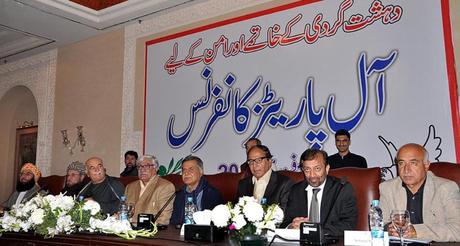 The all 24 parties participating in the All Parties Conference (APC) called by the Awami National Party (ANP) to discuss the terrorism issue in Pakistan have backed the dialog with the Taliban to establish peace in the country.
A joint statement issued at the end of the conference here in Islamabad on Thursday stressed that the eradication of terrorism is the essential to make Pakistan prosperous.
Talking to media representatives, ANP chief Asfandyar Wali Khan said that terrorism is not the issue of a single party but is a national issue, adding the APC was commencement for establishing peace in the country.
Delegations from 24 parties including PPP, PML-N, PML-F, MQM, JUI-F, JUP, and MWM attended the APC. Pakistan Tehreek-e-Insaf and Jamat-e-Islami had refused to participate in the conference.