We got beaches in mind
Man, it's been too much time
Not a care in the world is where I wanna be
Beaches in mind…
As a boy who loves beach so bad, sandy shore and breaking waves do turn me on. Therefore, every time I have my trip schedule, I will always pencil in beach agenda on the priority list. No matter, if the major plan is going to a landlocked region, I will insert another visit to its neighbor which has beaches. Too much, though, but that's how I value my vacation :D
This is why, on the next day, after spending the whole day in Phi-phi Don, I kept visiting Ao Nang–though Phi-phi did give me great beachgasm. Ao Nang is another beach city which could be found in Thailand besides Pattaya and Phuket. Ao Nang also becomes one of Krabi highlights which has to be visited.
After one and half hour leaving Phi-phi Don and being tossed around on ferry, I came back to Krabi to continued the journey to Ao Nang by using Songthaew (Thailand public transportaton). It took less than thirty minutes to get there and before arriving, the driver asked all the passengers about where they were going to be dropped in. Luckily, there were a couple who was about to stay at the same guest house with me, so I did not miss the place I had to stop.
You don't need to worry  for being lost because  Ao Nang is a small town which crowd is centralized and stretched along the main street. As you walk through the street, you can see and visit some cafe, souvenir shop, pub and restaurant. There are no intersections which would make you confuse to turn, it's just a go straight option when exploring this touristy destination.
The day was so drowsy and scorcher. As I arrived at the guest house, I took a nap for a few hour. Maybe since the fatigue I had after climbing to the View Point yesterday hadn't been yet fade away, I slept very deeply until I woke up in the evening.
Without wasting further time, l left the guest house and headed to the beach to enjoy the sunset. The town seemed getting merrier. Those colorful lamps started to glow and more tourists passed by. Although the town's highlight just constituted a piece of roadway and stalls stretching along, but the town was packed as attractive and as tourist friendly as possible.  I could say that I began to love this town and would like to go back again.
Not more than ten minutes, I reached the beach. I could see that it wads beautified not only by the greeny hills but also some boats which leaned not far from the coastline. Some tourist were also found waiting for the sunset.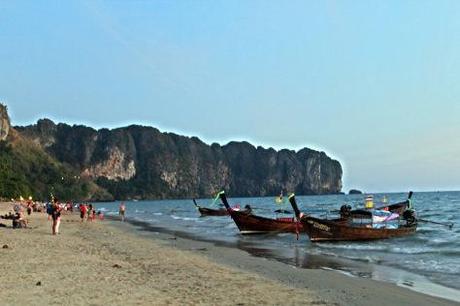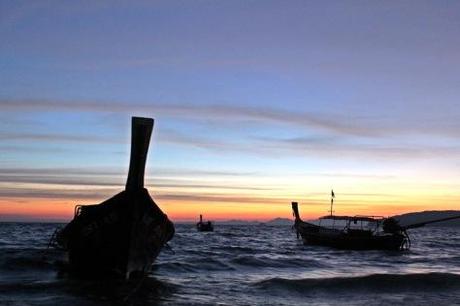 A breath taking sunset view