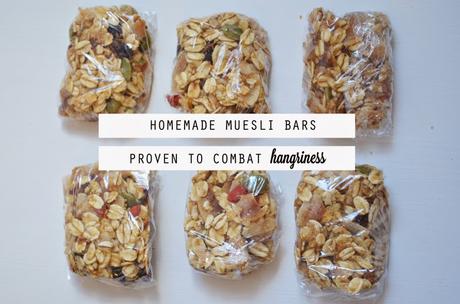 I can't believe hangriness is not a thing everyone believes in. I'm someone who gets hangry a lot, specially around that weird time between 3pm and dinner. Sorry for the lack of measurements in this post. I measured visually and ended up with five days worth of snacks for myself. 
Ingredients: OatsCoconut flakesApple SauceRaisinsGoji BerriesPumpkin SeedsSweetener of Your ChoiceOat flour
Steps:- Toast oats and coconut flakes in the oven for around 15 minutes on 150c. - When cook, mix with other dry ingredients in a bowl. - Add apple sauce and sweetener. Make sure it's combined well. - Line a tray with baking paper.- Place an even layer of the muesli mixture and compress. - Bake around 15 to 20 minutes on 150c (depends on your oven, keep a close eye on it). - Let it cool down before serving. - Want to make it last for the whole week? Great! Individually wrap them and store in the fridge. Mine keeps for around five days and gets less crumblier as it gets older. 
Do you have a tried and tested muesli bar recipe? Keen to share it? Do you get hangry too?