Only a couple more Fashion Fridays remain. Once the semester starts, I'll be back to writing about books, literature, films, and maybe even mommyhood and life.
Thank you to those of you who have participated in Fashion Fridays on Steph's Scribe and have wanted some tips on various subjects. Today, I'll do my best to address reader questions about fashion and offer tips. Let's begin.
Reader Question #1: How do we hide those not so flattering features? For example, how can I make my bootie look smaller—or at least cuter—and how can I camouflage my muffin top?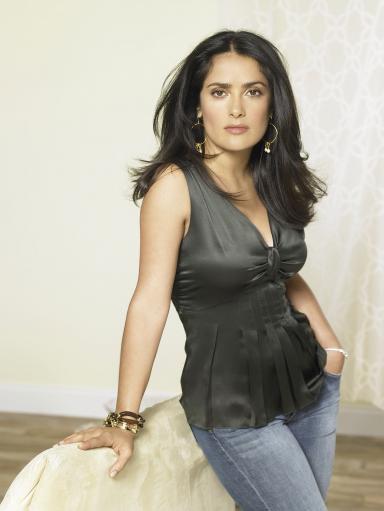 Salma Hayek knows her proportions…camouflaging a chest and minimizing the waist.
First, I have to address this right up front. Before we talk strategy, you must BUY THE SIZE THAT FITS YOU. Do not go by a number. Numbers mean nothing. You may think you're a perfect size 6, but you will see, designers cut their clothes smaller than name brands. Do not marry yourself to the size. The size is irrelevant. It's the way the clothes fit your body that matters. NO ONE BUT YOU knows the size of the clothes. I don't think I've ever come across someone who said, "I love your shirt! What size is it?"
That being said, the most important factor in dressing your body is having the right fit. Your bootie won't look smaller by cramming yourself into jeans that are way too tight. On the flip side, buying clothes that are too big—or are not fitted appropriately—will just make you look bigger. The lesson here: FIT IS IMPORTANT, NOT THE SIZE NUMBER ON THE TAG.
Now, for the specific answers. To hide a tummy, here are some tips:
-Find clothes that scoop down and gently cover the tummy.
-Ruched tops can hide a tummy, or a wrap top.
-For fall, jackets are great for hiding the tum-tum.
-Any shirt that gently glides over tummy and sits squarely on hips works.
-Some of these shirts with elastic at the waist can be very forgiving; however, make sure it doesn't make you look like you're wearing a garbage bag. It will just make you look dumpy.
-Find pants that don't squeeze your tummy too hard—they just give you a muffin top and make the tummy protrude and look bigger. Pants do affect how the tummy looks.
For the best bootie:
-Big pockets on pants can make the bootie look bigger. Make sure pockets work well and don't enlarge.
-Darker colors on the bottom hide a multitude of sins. Buy darker jeans and wear darker colored pants and skirts.
-Look for the right cut. If you have a big bootie, AVOID STRAIGHTLEG PANTS. Even though they are the rage, be sure to DRESS YOUR BODY ACCORDINGLY. Don't do trends just because they're in. Or, if you choose to wear a stovepipe pant, make sure it's balanced out on the top, otherwise, you look like you're all hips and bootie. Instead, you should choose boot cut or slightly-flared bottoms to stay in proportion with the rest of your body.
-Look for A-line cuts of clothes. A-line cuts are also a girl-with-bootie's best friend.
Reader Question #2: How can we transition our summer clothes to fall? How do we continue to wear summer dresses in colder weather?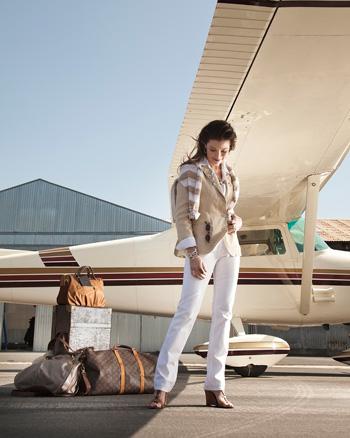 The look of white jeans for fall.
The easy answer to this particular question is LAYERS. The ability to LAYER our clothes extends our wardrobe. The trick is how to get this right.
For example: Let's say we start with more of a summer dress. That summer dress can be worn alone in warmer months with flats or sandals or heels. Now, take that summer dress…how can we make it move into fall? Add tights. Add boots. Add a sweater or jacket. Throw on a scarf. Put a long sleeve tee under it. Just make sure the tights you pick work for your body. If you are tall and thin, any color will do. If you are a pear-shaped (me) or plus-size person, stay away from bright colors, as they will just make your bottom half look bigger.
My favorite question is always that of wearing white. Yes, you can wear white jeans in the fall and winter. Why the heck not? They're made out of the same material as blue jeans. Nothing looks more elegant than a white jean paired with a gray or brown cashmere sweater. Very elegant.
Shirts can be transitioned easily to fall; all you need to do is add a cardigan. Belted cardigans, cropped cardigans, or cardigans that fall to the hip are great ways to extend your wardrobe. Buy neutral colors, that way you'll get more use out of them.
Reader Question #3: What colors go together? Can you wear brown and gray together?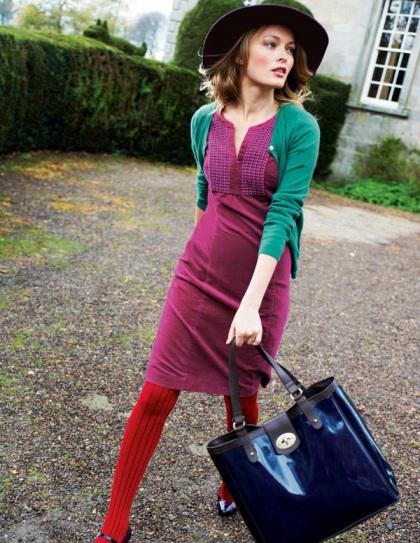 Look at these colors! They're brilliant! I'm buying this whole outfit. From Boden.
The answer here is: Look at the Anthropologie or Boden catalogues to take cues about what colors work together. The answer is that almost anything goes! It's crazy! I have to admit, this is one of my biggest challenges. I know how to dress my body type, but I often have problems being daring with my color choices.
Yes. Grey and brown go together. They are both neutrals. Neutrals can be paired with anything. Black, brown, grey, and whites are all neutrals. Pair them up. See what unfolds when you add a splash of color. Sometimes, it can be most inspiring.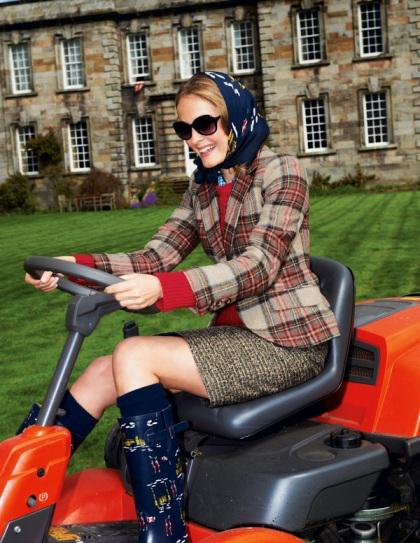 It's almost shocking the way this all works together, but lots of neutrals are at play. From Boden.
Reader Question #4: How do I know what colors work well for me?
If you've never had your colors done, see if you can find someone who will do them for you. Should you wear cool colors or warm colors? This is all based on skin tone, along with hair and eye color. I used to determine colors for women when I consulted. It made the shopping that much easier because you immediately eliminate colors that don't work. You want colors that flatter you near the face. For example, I wear cool colors. Think jewel tones: emerald green, sapphire blue, black, true red (not warm red), and gray (dark). If you lean toward warmer colors, you can wear orange, turquoise, browns—more of the earth tones. If you are a cool person and you wear warm colors near the face, they will make your skin look washed out, yellow, and (God forbid) aged. No one needs that. It's easy to find out what colors work best for you
Reader Question #5: How can I accessorize? Is there a such thing as too many accessories? If so, how do I know when there are too many?
The best advice for this is to always remember Coco Chanel's quote and keep in in the forefront of your mind at all times: "Before you leave the house, take one thing off."
I think of accessories this way: they can change an outfit. By adding a scarf, by adding layers of jewelry, you can instantly change a look, add elegance, or funk it up. Another thing to consider is your height: Sometimes too much jewelry looks ridiculous on small-framed or petite people. Taller people can get away with more.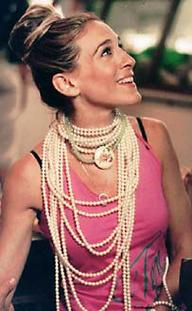 SJP: Too many pearls or just the right amount? You make the call.
My friend Jenny is 5'9" (or more…she feels a lot taller when I'm standing next to her). She and I love to shop. We have a great time doing it. But there is no way in hell Jenny can wear what I wear or I can wear what Jenny wears. We are two different body types. She can get away with far more jewelry, hats, and accessories than I can on my 5'1" frame.
Also, loading yourself up with diamonds looks better at night than it will during the daytime when it might look cheap or out of place. Wearing tons of jewelry doesn't look elegant and rich, but rather like you're dying for attention. Statement pieces work, but do not overwhelm yourself. Ask: Do you need the belt, the hat, the bangles, the bracelets, the big earrings and a scarf with that one particular outfit? Probably not. When in doubt, do what Coco did, and take something off. Lighten the load. We don't want to look weighted down by our accessories.
The truth of the matter is, just as with dressing your body in clothes, BALANCE is what we should strive for. If something feels off-balance, do what writers do: DELETE.
Reader Questions #6: I don't have any curves and am straight up and down, like a boy. How can I dress my body type?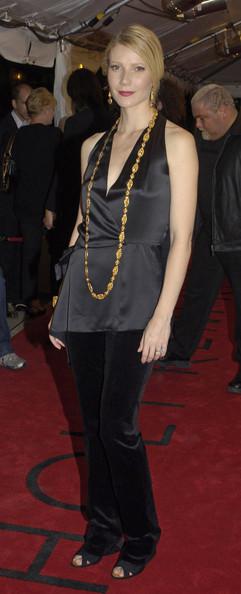 See Gwyneth? See Gwyneth dress her body type? See how she adds curves? Find someone who dresses nicely and shares a similar body type. Use them as an inspiration.
Let's be real: most models don't have curves. They, too, are straight up and down. Yet they look good in clothes. How does this work?
PROPORTION and TRICKING THE EYE. Clothes have the ability to change the way your body looks if you pick the right things.
There are all kinds of tricks for body types. I know the type of clothes that fit me…petite in height, pear-shaped, but not thin…I have curves. I know this about myself. And, I've learned to dress my body.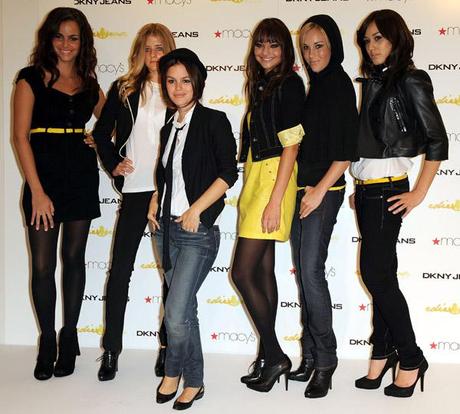 Rachel Bilson: Probably the best-dressed young celebrity. She's 5'2″ and knows what works for her. Look at her petite stature next to those models, and she still look fantastic.
For the straight up and down body type (which, by the way, is my friend Jenny's body type—and I help her buy clothes all the time), you want to create the illusion that you have curves. How?
-Belts work. Buy belts to help create that hour-glass figure. In the last "Sex and the City" movie, the characters all wore belts.
-Jackets with cinched waistlines. Any jacket or top that has a cinched waist creates the illusion of having a curve. Try wearing some of these.
-This body type usually has thin legs. Play up your legs…wear skirts, straight or boot cut jeans and pants, or leggings. With leggings, make sure what you put on top creates that hourglass look. Don't wear boxy things.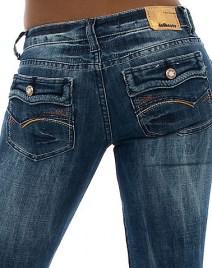 Flap pocket jeans can help add curves.
-On pants, make sure there are flap pockets on the backs, which create the illusion of having a fuller bootie. Any pant with pockets on the back can help with that.
-Corset tops and wrap tops also can create the illusion of curves.
-Deep v-necks also help define a waist.
-Get rid of anything double-breasted or baggy. This will offer you no help.
 ***
I hope these suggestions have been helpful. Email me at [email protected] if you want to ask me a question you might not be comfortable posting on the blog. Otherwise, I'd love to hear your comments and concerns.
Happy Friday.