As I expressed earlier today in a comment in The Moscow Times, it is curious how those who run afoul of the Moscow Kremlin seem to have the nasty habit of stumbling into the path of stray bullets. I was echoing the sentiments of journalist Mike Novak who more aptly remarked on Twitter that, " He tripped and fell into the bullet. Nothing to see here, move along now."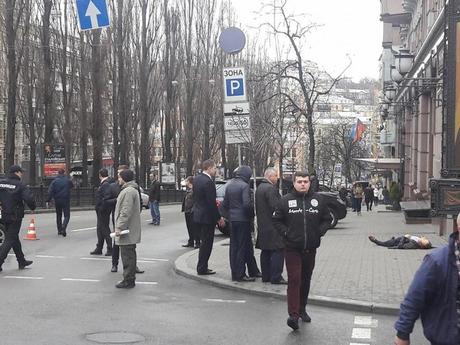 Of course the murder could be related to something different than the ongoing war between Russia and Ukraine, but some assumptions fit far too easily based on experience. The investigation into this morning's street shooting of former Russian parliament deputy Denis Voronenkov (Денис Вороненков) is still in process. One of the two shooters was wounded by Voronenkov's bodyguard and taken to a local hospital.
Voronenkov was killed at 11:25 in the morning as he exited the Palace Hotel in Kyiv (Kiev) on his way to meet with another former Russian minister of parliament, Ilya Ponomaryov. Both men have been outspoken critics of Russian president Vladimir Putin. Both fled Russia for reasons of safety, and Voronenkov and his wife had been granted Ukrainian citizenship.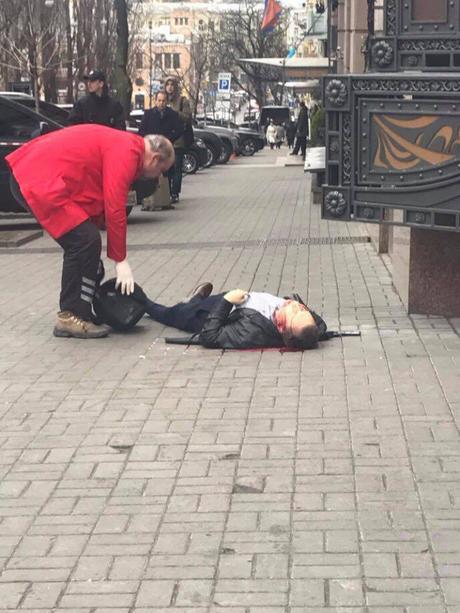 Voronenkov had recently been testifying in Ukrainian parliament hearings against former Ukrainian president Viktor Yanukovych . Only hours after the murder both the Ukrainian Security Services and president Petro Poroshenko publicly pointed fingers in Moscow's direction.
Whether it be Paul Klebnikov, Sergei Yushenkov, Anna Politkovskaya, Stanislav Markelov, Anastasia Baburova, Natalia Estemirova, Alexander Litvinenko, Boris Berezovsky, Mikhail Lesin, Denis Voronenkov , Pavel Sheremet or Boris Nemtsov, it might easily appear to many observers as if the (contract) hits just keep on coming.