Philharmonic opens with concert, free dress rehearsal.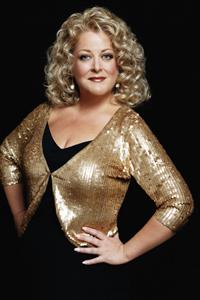 The diva: Deborah Voigt sings at the
New York Philharmonic on Wed.

The New York Philharmonic season opens on Wednesday night, with a concert featuring Deborah Voigt singing "Dich, teure halle" from Wagner's Tannhäuser and the final scene of Richard Strauss' Salome. Alan Gilbert will conduct. 
Tomorrow morning at 8am, the Philharmonic will make tickets available for the orchestra's open rehearsal at 9:45am. Fans wishing to attend may line up in Lincoln Center's Josie Robertson Plaza in order to get tickets. Sponsored by Credit Suisse, the open rehearsal will feature a complete performance of that evening's concert. 
Music lovers lining up for tickets will also be elegible to receive an ITunes download card containing excerpts from last year's performances of Mahler's Sixth Symphony. Some lucky fans will also receive IPod Shuffles, pre-loaded with the orchestra's performance of the Brahms Fourth Symphony, conducted by Alan Gilbert.The concert, which also includes two pieces by American composer Samuel Barber will be broadcast (with tape delay) at 8pm on Wednesday night. The performances will be shown on PBS as part of the Live from Lincoln Center series, and will also be carried on WQXR 105.9FM and as a live audio webstream on WQXR.org..
The Philharmonic's subscription season begins on Thursday evening with encore performances of Gustav Mahler's Resurrection Symphony, featured in the ensemble's Sept. 10 concert honoring the first responders, survivors and deceased of the attacks on the World Trade Center on Sept. 11, 2001. Alan Gilbert conducts. 
For further information and tickets to the New York Philharmonic, visit NYPhil.org.