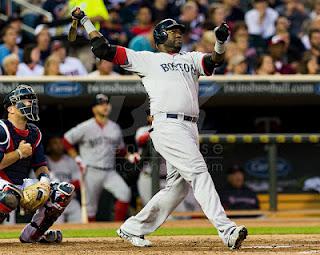 As I was doing my Trivia Night last night, the Red Sox were scoring early and often, and every time I looked up, it seemed they were pouring it on.
Then I looked up to see the Sox up 10-2 in the bottom of the sixth, with two outs. Josh Beckett had just thrown his 99th pitch, and I realized something: it was nearly the exact same line as Felix Doubront had last Saturday.
8-run lead in six innings, 99 pitches thrown.
Uh-oh.
Fortunately, Beckett struck out the last batter of the inning on his 100th pitch, and it ended his night. It made me feel much better. It wasn't exactly the same. (And the opponents were the Twins and not the Yankees. Just a slight difference.)
The bullpen was stellar last night. Scott Atchison retired all six his faced, and Matt Albers just a single in the ninth to wrap it up.
Mike Aviles (I'm glad I have him on both of my fantasy teams) went 4-for-5 with a home run, and David Ortiz continued his torrent hitting, blasting a moon shot and now leads the AL in batting at .444.
Josh Beckett walked three in a shaky first inning, after getting a 3-0 lead. It looked like he was going to give back the three runs, but allowed just one, on the third walk.
It's two straight for the Sox, and they go for the sweep at Target Field tonight with Clay Buchholz, who really needs to straighten out his season in a hurry.