Rehearsal accident sidelines Mariusz Kwiecien.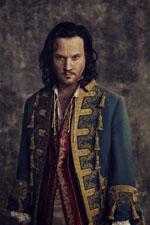 Disabled Don: Mariusz Kwiecien will
not sing the premiere of the new Don Giovanni.
Photo by Nick Heavican © 2011 The Metropolitan Opera.
Baritone Mariusz Kwiecien suffered a back injury during the Monday, Oct. 10 dress rehearsal of the Metropolitan Opera's new production of Don Giovanni. The staging, by Michael Grandage  is scheduled to open on Thursday night.
The singer suffered a back injury during the opening scene of the first act: a night-time swordfight between the libertine Don and the Commendatore, played by bass Stefan Kocan. According to an eyewitness, Mr. Kwiecien's back simply "gave out" during the energetic sequence. The baritone has had a history of minor back injuries.
Mr. Kwiecien was strapped to a back-board and removed to a nearby hospital. The rehearsal continued with the "cover", (baritone Dwayne Croft) in the title role. The eyewitness said that Mr. Kwiecien was conscious, in good spirits, and said he'd be "back Thursday."
Unfortunately, that won't be the case. In a roster shuffle, Mr. Kwiecien has been replaced for Thursday's performance by Peter Mattei, who last sang the role at the Met three years ago. Dwayne Croft will remain the cover. Mr. Mattei is currently under contract to sing Figaro in the Met's current run of Il Barbiere di Siviglia. (Review here.)
In turn, the role of Figaro will be taken over by Rodion Pogissov, who is also scheduled to sing the role of the barber in the company's spring run of the opera. We here at Superconductor would like to wish Mr. Kwiecien a swift and speedy recovery.
The Superconductor review of Don Giovanni will appear following the Oct. 17 performance.