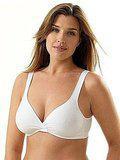 This episode of Nursing Bra Experiment is brough to you by:
Lightly Molded Crossover Leisure Bra - Style 409
I must say, this was a great pick considering I have been suffering from one NASTY sunburn.  Usually, I have to go braless with sunburns because of...you know...the mind numbing pain.  So I did indeed go wild and free for a couple days (plus my little tube top from high school, didn't want to freak my family out too much.)  A full bottle of aloe later, I managed to ease this leisure bra on.  Plus, I really needed to start wearing SOMETHING; my ladies were hurting and I swear they were closer to my belly button already.  So on it went and on its stayed.
So far, I've been majorly impressed with the fabric of the bras I've gotten fron Leading Lady.  And this is no exception.  It's a cotton-spandex blend (mostly cotton) so it was nice to have something uber soft against my burns.  The little bit of spandex added a nice stretch factor so it was TIGHT against my skin or my chest, but still secure and snug and didn't stay stretched.
This particular style was a back closure.  It was ok as far as closures go, but I kinda wished it was just a pull over your head thing, I seem to prefer those in non molded cup bras.  It wasn't uncomfortable laying down or sleeping, so I guess I don't technically have any complaints there.
Back to the stretching, it was a pull the cup to the side thing.  Usually, the fabric in this part can get kinda streched out and flop back into place loosing its actual shape, but this one didn't.  I guess they just hit the sweet spot in fabric mix, but it stayed amazingly shapely, in which my boobs were thankful.  I don't normally wear nursing pads because I don't usually have leakage problem, but for the past couple days I have so I started using the pads.  I wasn't sure if they'd slip and move around; they seem like they would.  However, they stayed put in this nursing bra, which was a pleasant surprise!
The support of a large chest was what would be expected of this style.  I wasn't amazed but it was still pretty good considering the situation.
ALSO, my little random tidbit of "what i noticed."  I have this in black, not the pictures white.  However, the material is a bit thin in the cup, so nipple show-through was a little bit of a problem.  The nursing pads solved that but still...something to consider.  And because the fabric was kinda thin, I imagine the white would have a little bit of see through issues.  Again, I don't know for sure, but just something to think about.  Unless that's what you were going for ;)
comfort: 10/10
support: 7/10
ease of access: 10/10
(Here's the link again to Leading Lady's nursing bras)