Drum roll please....and the winner is....a classic underwire bra!.  The specific one I tried from Leading Lady is style J126640.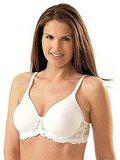 I've always been an underwire kind of girl from as long as I can remember.  It all comes down to support for me.  They need to be tamed and framed.  So naturally, when I decided to breastfeed I was so scared about what to do with my bras.  Everywhere you go in the mommy world you hear about horror stories of infections and complications with mastitis.  If I couldn't do underwire I didn't know what I would do.  But I am lucky, so incredibly terribly lucky.
I'm not going to give another total review on it.  If you'd like to read the original one here's the link to it. I will, however, give you some of the highlights of why it's my favorite.  The support is super fabulous.  Naturally it would be because of the underwire, but it is a really well made bra. The cups are molded and supportive all on their own.  The straps didn't fall down off my shoulders either.  The lace is just an added bonus.  It's so pretty and it makes me really feel like woman again.
Now, I know that most of you reading this probably can't do underwire, so I'm going to share my second favorite: no wire molded cup sport bra (The one I tried was style 4388.)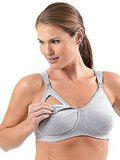 No, this is not the most attractive bra in the world.  No, this is not the most supportive bra in the world.  However, being a no wire it's pretty darn close.  This is my second favorite because this is the most supportive no wire bra I've ever tried tried.  Granted, besides this experiment there haven't been many, but I am really impressed with it.  The cotton is soft and kept me dry through leakage or sweat.  I really enjoyed the familiar feeling of have dedicated cups rather than a squishy compression bra that hurts like no other with sore milky boobs.  I personally would need a little more from it to use it as a heavy activity sports bra, but it's pretty great for light stuff like cleaning the house or walking with a stroller.  It's also decent enough to go out in public for those of you who are self conscious about that kind of thing.
I'M DONE!!!  Now that this experiment has concluded, I'm currently coming up with ideas for what to focus on next.  I would love any feedback you have for what direction to go now.  But stay tuned because I just might have something else up my sleeve. :)  But for now, enjoy this gif image of the happy dance going on in my head.