Hi friends – 50 points to the first person to guess where we went for dinner this week ;) In my defence even though we ended up at Frankie & Benny's again I had every intention to have something different… I ended up with the BBQ chicken pizza again. I'm not really sorry either – it was so nice! You can check out my previous date night outfit here – it seems I made up for the lack of black from last time with this outfit…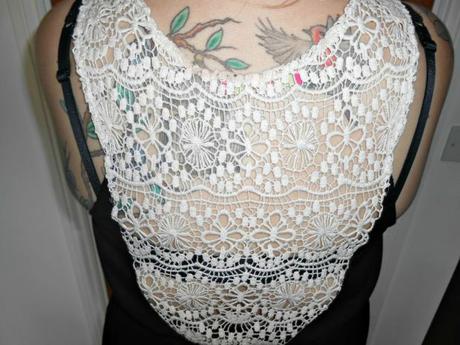 It was still pretty warm so I went with this nice airy crochet back maxi dress from Very's 'Resort' line last year. It's pretty basic; floor length with an elasticated waist band (which is strangely flattering), so I only took a picture of the interesting crochet bit at the back! Ideally I'd of worn one of those weird bras that only has the cups and kind of sticks to your tatas, but I didn't have one. I have no shame showing a bit of bra every now and then anyway – it's no secret that most women wear one.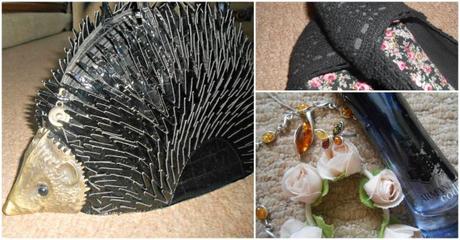 I clearly wasn't in a very colourful mood and took my cute little
hedgehog bag from Camden Market
and wore my
black crochet dolly shoes from Primark
. For jewelerry I opted for an amber bracelet, necklace and ring all from various retailers. It was far too hot to be faffing around with my hair so I just shoved it all on top of my head in a bun and popped a
bun garland from Primark
round it to make it look as if I'd put a bit of effort in!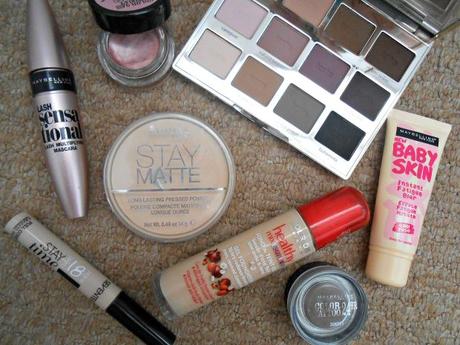 For my makeup I used
Maybelline's Baby Skin Instant Fatigue Blur Primer
,
Bourjois' Healthy Mix Serum
and
Seventeen's Stay Time Concealer
–
you can read a full comparison of Seventeen's concealer to Collection's here!
I used my
Maybelline Color Tattoo in Permanant Taupe
for my brows and set everything with
Rimmel's Stay Matte Powder
.
For my eyeshadow I covered my whole lid in
Maybelline's Color Tattoo in Pink Gold
and then went back to my trusty
Tartlette
palette and used
Free Spirit
on the inner corner,
Power Player
in the crease and
Fashionista
as eyeliner. I followed up with a few coats of
Maybelline's Lash Sensational Mascara
(
full review here
) and off we went!