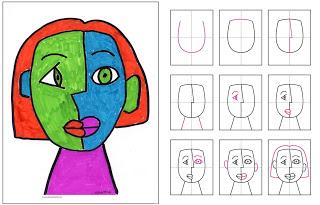 There's more than one way to draw a cubism portrait. And if you use bright Sharpie markers to make a face that has multiple points of view – you just might end up making your own masterpiece. 
1. I like to use Sharpies on fingerpainting paper as the colors stay so bright. The only catch is that the paper is a little hard to erase. But if you follow the simple steps in my diagram, you should be able to start with a nice pencil drawing.
2. Trace all the lines with a thick, chisel-tip black Sharpie marker.
3. Fill in with Sharpies. I still love their new Brush Tip Markers, if you can afford them.