The kids are all right.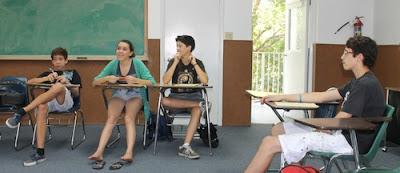 Every year, the National Institute of Drug Abuse (NIDA), under the auspices of the National Institutes of Health, conducts its monitoring the Future survey of drug use among American young people in the 8th, 10th, and 12th grades.
This year, students got very good marks. "We are heartened to see that most illicit drug use is not increasing, non-medical use of prescription opioids is decreasing, and there is improvement in alcohol and cigarette use rates," said Dr. Nora Volkow, Director of NIDA.
Here are some highlights from this year's study:
— Despite nationwide concerns over prescription opioid and heroin abuse, heroin use among students has hit historic lows, while "narcotics other than heroin" continue to decline as well. Only 4.4% of high school seniors reported Vicodin use in the past year, compared to more than 10% in 2003.
—The downward trend in teen cigarette smoking continues, and is presently at the lowest rate in the study's history. 5.5% of high school seniors had smoked, compared to 10.7% in 2010. The highest rate of smoking recorded among seniors was 25% in 1997. Among 10th graders, daily smoking has been cut in half in the past five years, down to 3%.
—For the first time since the annual study began, marijuana use exceeds cigarette use among 12th graders. 35% of high school seniors reported past-year cannabis use, and 6% reported daily use. (Daily use of cigarettes was 5.5%). Disapproval rates concerning regular smoking have also continued to decline as the perception of risk continues to decline among teens.
—Alcohol use continues its slow but steady downward trend among teens, "with significant reductions seen in the past five years in nearly all measures." However, it remains the most commonly used drug, 58% of seniors having used it in the past year.
—Synthetic marijuana, the class of Spice/K2/herbal incense drugs, continues to decline in popularity, presumably due to fears about adverse side effects.
—16% of 12th graders reported using e-cigarettes in the past month, although only one out of five student users said they were vaping nicotine. 13% of 8th graders said they had no idea what was in the e-cigarette device they were using. Other answers ranged from flavorings to marijuana.