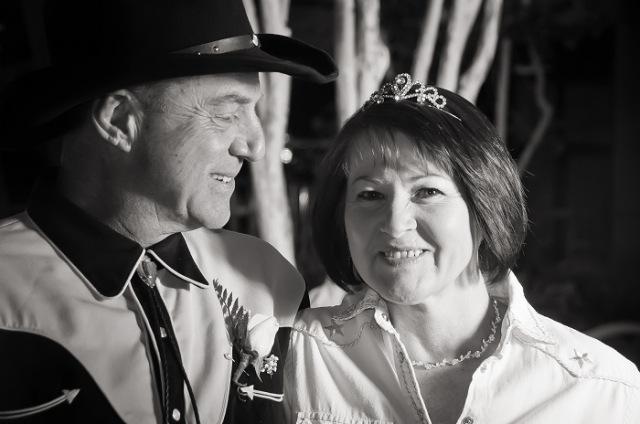 Annie and Michael Lampard from Stratford upon Avon, in the UK met in high school. They liked each other, but were both very shy back then, too shy to do anything about it. They grew up and both got married to other people, but those marriages ended and eventually they got together when we were 35 and 36 respectively. They got married in 1991.
Mick had always wanted to go to Las Vegas, and his 60th birthday was coming up. They booked five days at the MGM. Coincidentally, Annie and Mick's 20th wedding anniversary was coming up that same year, so Mick suggested that while they were in Vegas celebrating his 60th birthday, they might renew their wedding vows too.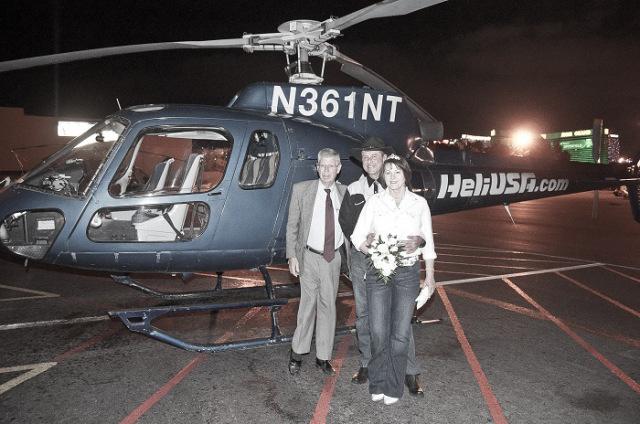 Annie and Mick are a fun couple, and they briefly considered a "hound dog wedding' which would be conducted by an Elvis lookalike. In the end they chose the renew their vows while in a helicopter flying over the Las Vegas strip at night. Annie said "that proved to be one hell of an experience" and they cannot recommend it enough.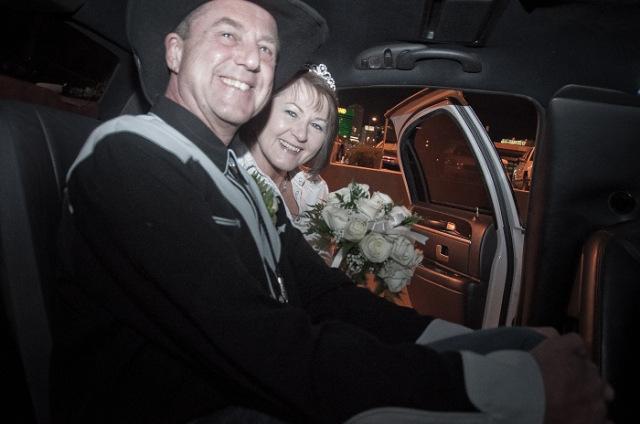 They chose a cowboy theme for their outfits, Annie's cowboy boots were white leather, and, as you can see from the photos, she looks great in them, especially along with the tiara! Mick wore a black Stetson type hat with his cowboy gear. Annie's flowers were white roses. She did her hair herself but had found a make-up artist to come to the hotel room for just $35.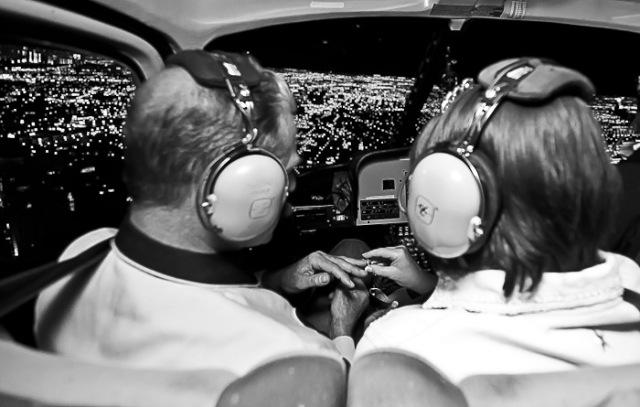 Some of the couple's family thought they were a little crazy doing this in Las Vegas, but Annie's son and daughter-in-law thought it was great idea and came along to Vegas to join in the celebrations.
The four of them were collected from the hotel by a white limo in the early evening to be taken to the airport. They had a bridal bouquet, buttonholes, a bottle of champagne and a wedding cake all waiting for them in the limo. At the airport they met with the minister, photographer and wedding organizer to go through all the procedures for the ceremony. They made sure to get lots of photos taken before, during and after the flight. After leaving the airport they all had a meal in the 'Wild Onion' restaurant in Hooters and shared their wedding cake with some of the waitresses.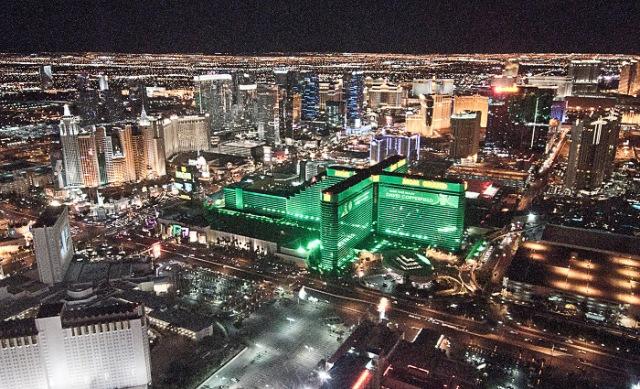 They certainly made the most of their five days in Las Vegas, seeing the surrounding areas. One day they visited the Grand Canyon, and drove to Utah another day. They spent one evening in the Downtown area of Las Vegas, eating at the Main Street Station casino, which they enjoyed. The Strip does have so much to see, though, and they spent a lot of time trying out all those casinos.
Annie said "Vegas is a great place to marry or renew your vows. It's a very exciting city so much to see and do. Very glitzy and has become our favorite destination to date, so much so we went again 2012 and we hope to return again and again!"
For more information on planning your Las Vegas wedding, email Claire or visit her website. For updates, "like" the Las Vegas Bridesmaid page on Facebook.