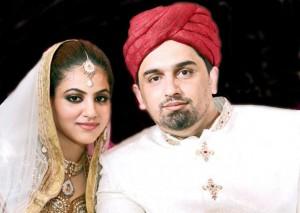 Pakistan pop singer Noor ul Ain Khalid, most commonly known as Annie or Annie Khalid alleges that her husband Malik Naureed Awan might kills her.
Mahiya hit maker was married to Malik Naureed, who is US based Pakistani businessman, in September. She had been in news for a couple of days as she was first alleged by her husband for fleeing away from her in-laws house with valuable of worth 40 million.
But Annie refused the allegation while talking to media on Monday. She said, "I have not stolen anything, no cash, nothing in kind. When I am fleeing to save my life, will I go to the bank when I didn't have a bank account in Dubai? I fled to London with a bag weighing less than 15KG. I only took with me my clothes, laptop, phone and my personal belongings. I couldn't have come out of Heathrow airport with that much cash. They are fabricating stories."
Annie unveiled the inhumane face of Malik Noureed, like, how he tortured her both physically as well as mentally. She told in tears that she had received several beating from husband during their four month marital relation. Talking of chaand raat beating, the pop star told that Naueed beat, slapped, punched her and smacked a chair at her back, causing her left shoulder to bleed.
"He was angry that why I went upstairs to talk to my sister and that by leaving the family meeting I had disrespected his family," added Annie.
Revealing the cause of her illness on what should have been the happiest day of her life, her Rukhsati day, Annie told that she was suffering from Hepatitis C but her body was reacting to the physical assault she received from her husband just after their Nikah.
Malik Naureed, on the other hand, declares all these allegations base less stating that if he had ever beaten Annie, why didn't she reported in police.