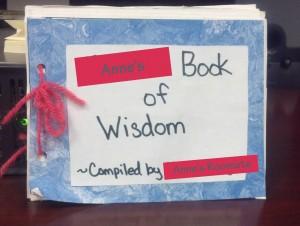 Do you remember your college years? Hanging out on campus with your friends, gathering together for a basketball or baseball game, or taking in a movie marathon night with the girls. These are my memories of college.
I had an interesting life in college. I got into things that I shouldn't and got involved with people it would have been better to have left alone. But through it all, my on-campus apartment and the ladies that lived within were a safe haven that I could go and get away. When we were together, goofiness was king and the only rules we had were to have fun and let loose.
My roommates, as they got to know me, figured out that I had an issue with memory. I would often times try to pull out a word of wisdom that people from home would use with me, but because I couldn't quite remember the sayings, I would eventually make up my own words of wisdom that would say the same thing with an obvious personal flair.
When we were getting ready to graduate, my roommate presented me with a present – a book. This wasn't just any book, it was a compilation of wisdom sayings that I had spoken over the years. While some were unique to us, making fun of our morning rituals or habits, others still ring with a bit of profound truth.
Enjoy these excerpts from "Anne's" Words of Wisdom.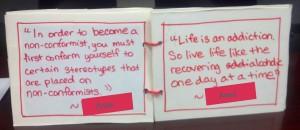 In regards to when college boys says "I love you"… "Half of them mean it; half them don't mean it but they want something from you and half of them don't know what love is. That's the truth about boys." (How many halves make a whole again?)
On first marriages… "Don't marry for practicality. Save that for number two."
On dating… "We don't save seats." (think about it)
"'Never mind' is code for you don't want to hear what I have to say and I don't want to say it."
"Life is an addiction, so live life like the recovering alcoholic, one day at a time."
IT services… "Learn to flirt with your electronics and everything will work better because you know electrical appliances are so stubborn they must be male." (Later that year I caught our microwave on fire.)
"When traveling to a foreign country you have to know the word for 'panties' because you never know." ( There was no perverse intention with this one. I also will find the location of the courthouse for any cities I'm moving to or visiting. Again, you never know.)
"Small animals are falling from the floor." ( I swear we were not under the influence of anything when this gem was conceived.)
One week, I had been been visiting friends in a city not far from my college town. I had spent quite a bit of money and was running low on gas. Also, I was between paychecks and needed to stop in to work and pick up my next paycheck a little early. Extremely proud that I had done what needed to be done and had been able to coast into the local gas station on fumes, I approached my friends on their way out of the on-campus cafeteria and excitedly exclaimed, "I've got gas!" How was I to know that my roommates, unaware of my conundrum, had just finished eating barbecue and beans for dinner? "I've got gas!" is the last quote in this memorable book.
Obviously this book was a self-published work by my roommate. She even categorized the sayings and color-coded each category so that quotes related to relationships are in blue magic marker and life lessons are in orange magic marker. Regardless, it's my most treasured book on the bookshelf. It's a scrapbook of 4 years together with the women in my apartment and each quote brings back the memories of a silly moment or triumphant victory. I hope you've enjoyed these excerpts from my college years.
What about you? Do you have a book or photograph to remind you of your college years?